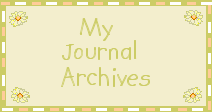 December 31, 2002: This is my last entry for the year 2002. It has been quite a year for my husband and I. We celebrated out six year wedding anniversary. I gave birth to our daughter. Our son started Kindergarten. My husband got a promotion where he is head chef. I started my blog. I hadn't kept a journal since I was 16. It's just as fun as I remember because now I can share my life with friends from around the world. Here's to a healthy and happy 2003. I changed the Blinkie Lover Zone around a bit. I moved the racks to their own page, I added a terms of use page. I made 18 new blinkies. Pretty soon I'm going to have to have two pages of blinkies if I keep it up. Besides doing that I took down the lights on the outside of the house. On a sad note I found out that my great-uncle died yesterday morning. He was my favorite uncle. He was suffering from Cancer, it had spread to most of his body and there was nothing that the doctor's could do. He died of a heart attack at home. I hope that he died peacefully. In a way I am relieved for him because now he doesn't have to suffer. I will be going to the funeral on Thursday. I hope that everyone has a safe New Year's Eve if you are going out. And here's to a happy, healthy and prosperous new year.
Posted by
at 10:24 pm
December 30, 2002: I can't believe it, 2003 is almost here. Just one more day. Can you believe it? Well today was just like any normal day. I cleaned house, wasn't really much work to do since I cleaned a lot this weekend. My husband had the day off so we watched Back to the Future 1,2, and 3. He got the boxset this weekend when he got paid. I found a nice surprise in my email this evening. I got a gift from Miriam, which you can see on my gifts page. I also got an award from Linda, which you can see on my awards I've won page. Also Jennie left me a nice message on my tagboard. Her and I have had some differences in the past couple of weeks, but I hope it will all work out in the end. I won't be able to do very much this evening because my husband wants the computer so he can do some website work of his. So I must cut this short as well. I came up with some more blinkie ideas so I will probably make some more blinkies tomorrow evening. My blinkies have become popular which makes me very happy. I try and make them as cute as possible. So look for some new ones tomorrow.
Posted by
at 9:00 pm
December 29, 2002: Today I went to town and paid some bills, caught up until next month. I made a couple more blinkies this morning. This evening though I am not doing very much on the computer because for some reason it's taking forever to load. I don't know what's wrong with it. John lost his third tooth up my mom's. We put his tooth under his pillow for the Toothfairy. My younger brother and his girlfriend are here watching movies with us so I wont' be on very long.
Posted by
at 9:20 pm
December 28, 2002: Today I was busy cleaning the house because noone was home but Lillian and I. John went up his grandparents to spend the day and night. Shawn was working, but he is home now taking a shower. I couldn't do the dishes because our sink is leaking underneath. I am going to have someone look at it on Monday. Noone can't come out until then. But I did finish up the laundry, vaccumed upstairs and downstairs. Cleaned up John's room once again. I did however make him clean most of it. He did a good job for what he did. He just missed a few things on the floor. I guess my plan worked. When I found time to get on the computer, I made two more blinkies. And I adopted the New Year's Bear from Cute Colors. Well that's it for now.
Posted by
at 6:12 pm
December 27, 2002: Today I watched Lord of the Rings. I absolutely loved that movie. It was so good. Full of action and it never got boring. I couldn't believe it was around 3 hours, it didn't seem like it. When the end came I didn't want it to end. My younger brother said that he and his girlfriend are going to see The Two Towers tomorrow. I probably won't get to see it at the theater because my husband is working a lot these days, but I will definetly get that one on DVD. I did the laundry, dishes and cleaned house too. I cleaned John's room again. I am going to have to do something about him but I don't know how to get him to clean his room. It's not really that bad but it does get messy at times. I told him that if he didn't keep it clean I was going to take everything out of his room except his bed and clothes. I don't know if that will work or not, I guess we'll see. When I came on the computer I made some more logos to go with my adoptables and I made 4 new blinkies. I also got a new counter from OKCounter. They are now offering free counters again. I still haven't gotten my cell phone activated so I had to call the service number. I was on hold for 20 minutes or so, then finally I talked to someone. When I activated my phone the first time I was given a wrong number so I had to do it again. Hopefully my phone will be working soon. If anyone is concerned about Lillian, she is doing much better today. She is not running a fever anymore, but she is still a little cranky. She is still sleeping a lot, but overall she is doing better. John is also feeling better but he still has the sniffles. I think I am getting the sniffles too, but I am okay. That's it for today.
Posted by
at 9:59 pm
December 26, 2002: Yesterday was a pretty good day to start with. We opened up our gifts at home. My husband got me A new cell phone, a Raggedy Anne & Andy Tea Cup Set, Bath & Body Works Country Apple and Sun-Ripened Raspberry body wash, body lotion and bath gels stuff, a body brush, The Lord of the Rings Gift Set, and the Scorpion King. I got him the new Mach 3 Turbo razor with replacement blades, an Old Spice Gift Set (I love this smell on him), new boxer briefs, socks, M*A*S*H Special Edition DVD, and shaving cream. John and Lillian got clothes, socks, underwear (John) and lots of games and toys. He also got a new kids laptop computer (kinda like a LeapPad). After we opened our gifts we went up to my parents where we opened up more gifts. Then we had dinner. By the time we got home I developed a migraine headache. I couldn't even keep my eyes open. So Shawn watched the kids while I laid down for a few minutes with a cold compress on my forehead. Lillian was fussy because she is teething. Actually she really isn't as bad as some kids can be when the teeth. Right now the kids are asleep. I had a migraine again this morning but I took some Advil. I don't have a headache anymore but I am still pretty tired. I made some logos to go with my adoptables, with the advice of my good friend Miriam. Thanks Sweety. I still have to make a few more to go with them, but most of the are up. Well I'm going to call it a night.
Posted by
at 9:51 pm
December 24, 2002: I'm up pretty late. It's Christmas Eve morning. I just wanted to let everyone know that I made some more adoptables and 4 new blinkies. The adoptables are so cute. I made a couple with ballerina bears that say Daddy's Little Princess and used my daughter's name for an example. The bears are from tubes that I found on the net today. The blinkies are cute as well. I am not letting anything get me down today. I think I'm doing a great job on my blog and nothing or nobody is going to ruin that for me. I have lots more tubes that I am going to use to make some more adoptions. I will write again tonight when my day is done. Right now I'm heading off to bed. Jeez...I can't believe I'm up this late. Time flies when you're having fun.
Posted by
at 3:01 am
Dinner went well. We all had a good time. Lots of good food and company. My grandparents came over too. My mom had them open up their gifts there. And we got to open ours from my brother's girlfriend. I told mom that we would wait until tomorrow to open up the rest of them since we are going up after we open up ours at home. Right now John is taking his bath. We left milk and cookies for Santa. My husband started a tradition a couple of years ago to leave Rudulph a beer and hot sausages. So we did that too. I know that sounds silly but John really enjoys it. We have him leave a note and my husband writes back to him thanking him for the milk, cookies, beer and hot sausages. It kinda of funny but it works. Plus my husband gets a beer in the deal too. Lillian is laying in her playpen asleep right now, she has been fighting sleep all day. She finally gave up. Shawn and I will probably watch some holiday shows after I put down to bed. When he's asleep we'll put out the presents. I want to wish everyone a Merry Christmas. If anyone is traveling please be safe and have a safe return home. Merry Christmas from the Denson Family.
Posted by
at 7:14 pm
December 23, 2002: It seems that I am still being accused of stealing, which is utterly ridiculous. I really wish people would stop accusing me of these things. For goodness sake, how many ways is there make a bear? And just because I took those down for now doesn't mean I am admitting to anything. I am just sick of this and am going to once again make them all over again just to appese the gods of graphics making. This is just ridiculous. As you may have noticed I am a little mad. But I will be fine. I will post another entry when my day is done.
Posted by
at 12:35 pm
I decided to make some more graphics. These one's are made from tubes that I found today. So they aren't stolen. I can't believe I am still being accused of this. But what's done is done. I think what I remade is actually a lot cuter then the ones before. I am going to make some more and probably put them up tonight. I cleaned house today. I also wrapped presents all day. John is staying at my mom's house for the night. She let him stay so that I could wrap all day. We are having Christmas dinner tomorrow night with my parents. Then we are going up Christmas day to exchange gifts. We will probably be geeing our new computer on Sunday. We are also getting a new scanner/printer and fax all in one. I can't wait. This computer is getting really slow and on my nerves half the time. I am in a pretty good mood considering what I went through today. I am not letting anything get me down during the holidays. I actually got a migraine from all this. But my husband told me that I shouldn't let it bother me so much because I know the truth. And I agree with him. I'm happy to say that my migraine went away.
Posted by
at 11:41 pm
December 22, 2002: My mother and I went shopping again today. We went to Kmart first. I only found one toy for John's presents. It is a stretchy yo-yo. I think he'll like it. Then we went to Walmart. I got John a couple of sets of Adventure Playsets. It has all kinds of cars, fire trucks and lots of other ones. I got him some of those soaps that have the netting on them for kids. I forget what they're called. We ate at McDonald's which is located in Walmart before we went home. While we were doing that John went to a party with my older brother. When we got back, we took John and Lillian over to see Santa. My older brother plays Santa every year for a small town that we used to live in. John didn't recognize him. After all that we went home. John is now watching TV in his room and Lillian is asleep. I am adding all the rest of the blinkies that I had from before. I just put them up so that if there are any that need links then someone can tell me. A lot of them, however, are from sites that don't require a link back. I think I got them all taken care of, now I can adopt more blinkies. I am taking a break from graphics making for now. If I get inspired I might make something, but right now I don't have any ideas.
Posted by
at 9:10 pm
December 21, 2002: Whew, I am exhausted. When I got up this morning I had to wrap all the presents for the gift exchange. We had several presents for the kids as well. I got both the kids bathed. John went up to my mom and dad's while I took a shower. The baby was sleeping at the time so she stayed here. I first went up to my mom's because she had Lillian's dress up there. It is so cute. It has lace for the sleeves with a lace vest that is connected to a silk bodice. The bottom of the outfit is long pants, it is dark red. Oh my is it cute. I told mom I'm going to have to get her picture taken in it before she grows out of it. When we got to the hall where we had the dinner, most everybody was there. Everyone took turns hold and passing the Lillian around. Most of them wanted to take her home but John wouldn't let them. We ate dinner, there was a lot of good food. We had a good time just talking and catching up on things. When we got done with dinner the kids helped pass out everyone's gifts. I got two things of powder with a powder puff. They are very cute. Shawn got a pair of really nice insulated gloves. We both got a remote control holder and a floating candle display. John got a robot that plays Hit Clips, and a few other things. He also got some candy. Lillian got a musical bear, a couple of rattles and an outfit. When we got ready to go I looked at all the cookies we got. Remember I had to make 10 dozen of two different kinds, so that means I got 10 dozen of two different kinds back. That's a lot of cookies. We also got little gifts to go along with the cookies. My aunt Jeannie gave me a lemon candle with real lemon slices in it. My mom put little charms on the ribbons, my aunt Nancy made little angels out of clothes pins. I made angels out of beads and safety pins. They turned out really cute. I just went to look over the cookies again. Here are some of the kinds I got. Snickerdoodles, Chocolate Chip cookies and bars, A few different types of Hershey Kisses cookies, A couple different kinds of peanut butter cup cookies, Cherry Jubilees, Strawberry Jubilees, Oatmeal Raisen cookies, Mocha Logs, A couple kinds of nut rolls, Orange Marmalade bars, and Potato Candy. Now that's what I call variety. I also found out that my cousin Mike and his wife are expecting. She said she is due in August. They have been trying for about a year now, so I am very happy for them. Well I think I'm just going to rest tonight. John is up his grandparents for the weekend. He doesn't have school until Jan. 6. I need to get wrapping paper so I can wrap presents tomorrow while John is away. There is another busy day ahead of me. But I love the holidays.
Posted by
at 9:09 pm
December 20, 2002: Today I went shopping with my mom again. We went to Walmart. I picked up a couple of Christmas tapes for John, Rudolph the Red-Nosed Reindeer and Santa Claus Is Coming To Town. I got them on VHS so that he can watch them in his room too. I also got an optical mouse for Shawn and I. I got a cable that goes from the printer to the scanner. I did to wait until we get our new computer to reinstall the software for the scanner so that I can scan a couple of pictures that I want to put up. I also found a really pretty and very soft Care Bear blanket for Lillian. We also went to the Dollar Tree where I got some baskets and napkins to put the cookies in that I made for the cookie exchange. That is tomorrow. I made the brownies when we got home. Then I frosted them with Strawberry Icing and put crushed peppermint candies on them. They look pretty good. The baskets I got are gold with holly leaves on the side. They are very cute. I need to wrap our gift exchange presents too, which I will do in the morning. The dinner doesn't start until 3 pm so I have time. When I got some computer time I tried out a new layer set that I now have on the main page. I really like it so I think I'll keep it up for awhile.
Posted by
at 10:52 pm
December 19, 2002: Today I started making my cookies for the cookie exchange. Our family dinner is on Saturday. I made the peanut butter balls and put them in the refrigerator to chill over night. Tomorrow I am going to dip them in white chocolate. Usually Buckeyes are made with dark chocolate, but I wanted to try them with white. This is the first time I ever made them. I hope they turn out. I am also making some brownies. Some are going to have strawberry frosting and some are going to have chocolate frosting. I am going to crush some peppermint candys and then sprinkle on top of them. I will probably do that tomorrow as well. John is going to help me do them, I promised he could help if he was good in school all week and he was. As far as computer things go, I decided to go ahead and put up my graphic sets. So far there are five sets to choose from. They are also available individually too. I made a few more blinkies. The name blinkies for adoption have been moved to the Blinkie Lover Zone. I also got a request for an adoption. So I made that. I got the idea for the Bug Hugs blinkie from Miriam, one of my blog buddies. She left a post on my Zonkboard, and I thought it was a cute saying. Thanks Sweetie for the idea.
Posted by
at 11:06 pm
December 18, 2002: Today wasn't very eventful. I just cleaned house and watched movies wiht my husband before he went to work. We watched Men In Black and Men In Black 2. After my husband left for work and John came home from school. He, Lilly and I went to take to a couple of my friends. One of my friends was supposed to come over tonight but I guess she didn't feel like it. She wanted to watch From Hell. Besides that I made some more blinkies. I love the movie Legend, it is one of my all-time favorite movies. I made some blinkies that go along with the movie. I also made a few name blinkies and a couple other blinkies just for fun. I was accepted to another graphic site so I just made a membership page to put all of them on. I am thinking about making some more blinkies but I have to come up with a few ideas first. I do have a couple of ideas. Just keep an eye out if you like the Blinkie Lover Zone.
Posted by
at 9:24 pm
December 17, 2002: Today my husband and I watched From Hell before he went to work and I took Lilly to the doctor's. From Hell is a movie about Jack the Ripper. It has Johnny Depp, Robbie Coltrain (the man who played Haggert in Harry Potter), and Heather Graham. My mom and I took Lillian to her doctor's appointment. She had to get four shots. Two in each hip. I think she took it better than I did. I cried when John got his shots too at that age. John had his Christmas party at school. He said he had fun. He played Pin the Nose on Santa. Sounds like fun. He brought home some candy and a toy tracker set that he got from the gift exchange. Lillian had a little bit of a fever so I gave her some Children's Advil. She is sleeping right now but it sounds like she is stirring a bit. John did have the sniffles but I gave him some of his allergy medicine and it seems to have cleared up. Luckily none of us have been really that sick this winter. Usually we are all sick by this point. I think it might be because we all got sick when John had his colds all the time. I had taken him to his doctor this past summer and we found out that he has seasonal allergies. So when he got sick we all got sick. Well now that he is taken medicine he hasn't gotten sick as of late. I hope I don't jinx it by saying that. I have a couple of people that joined my message board. I hope I get a few more members. I think it would be a great way to communicate with one another. I got a message on my Zonkboard from a girl named Tammy who said that her friend had a message board by the same name. I don't even know her friend and I had no idea that there was another board by that name. I'm not going to change it because I came up with myself. I'm sure there are other boards by that name but I came up with it on a whim after I made the logo. Sorry for letting off steam but I am getting tired of being accused of stealing. It's hard enough to be original and you know darn well that there probably is other sites out there with the same stuff but that doesn't constitute stealing on one particular person of the party. Am I right? Well on a better note. I made a page just for my reads because I am acquiring quite a few of them. So now they are on there own page. I visit some more new blogs tonight. There are a lot of lovely blogs out there. Oh and I decided to do the dishes last night after all. So today I didn't have too much to do.
Posted by
at 9:05 pm
December 16, 2002: Today was a clean up day after our dinner party. I did leave the dishes until tomorrow though. I really didn't feel like doing those yet. Besides there was a whole lot, I might still do them tonight though since Lillian and John are asleep now. My husband is wanting to use the computer. We just watched movies most of the day while we were cleaning. We had to go to the store so that I could get Lilly some more formula, cereal, juice and baby food. I also needed to get some meat for Spaghetti, which is what I made for dinner. I didn't do much work on the computer. I did add a few more reads and visited a few new blogs. But that's about it.
Posted by
at 8:48 pm
December 15, 2002: Today Shawn and I went to take John to see Santa Claus. We went to eat Lunch at Garfield's, which is where my husband works. We decided to go there so that we could take advange of his discount. That wouldn't matter anyway because I love to eat there anyway. The food is really good there. Our friend was working today there today. He came over after work. He is still here watching movies and drinking beer with my husband. I signed up for a chatroom for the message board. So far I have 2 members besides myself. I hope more join because I think it will be fun.
Posted by
at 7:32 pm
December 14, 2002: Today I spent most of the day cleaning house to get ready for our dinner party tomorrow night. When my husband came home from work I had dinner waiting. John is staying up his grandmother tonight. We are taking him to see Santa Claus tomorrow afternoon. It's been snowing here but it hasn't really been sticking. It's really cold though so I'm surprised. It's actually like little ice crystal that are falling instead of snow. My husband and I just got done having dinner and watching a couple of movies. He is still watching some while I update my blog. He will be using the computer later so I wanted to get this done. I really did take a break from making graphics today. The only thing I did was make a new credits page and updated my other sites. I also created a new message board called Circle of Friends, I hope to get a lot of members.
Posted by
at 9:13 pm
December 13, 2002: Today was a pretty good day to start with. Lilly and I went to the church to help my mother and brothers volunteer with the food baskets. They had some left over so we got one. It was very nice of them to do that. John and Lillian even got some toys that someone got especially for them. That was a total surprise. After everyone had their baskets and toys, we had lunch. The ladies that volunteer from the senior center in town made a bunch of different dishes for everyone. There was a lot of stuff to eat. We sang Christmas carols and gave out candy as prizes. It was a lot of fun. When we went home I was going to do some laundry. Well it was pretty well piled up. I swore that I did laundry not too long ago, but there they were piled up once again. Anyway, I started a load and it ended up going off balance right at the end. Well it must have went off track because after I fixed it so that it wouldn't be off balance, it wouldn't start. I had to take all the clothes to the laundry mat and wash them that way. The good thing was is that I got down a lot faster. I am having our washer looked at sometime next week. I have had a busy day. I didn't make any graphics today. I was going to take a rest from making graphics today, but I decide to make a few more blog angels and a shelf.
December 12, 2002: It seems like everytime I clean up a mess around the house, a few minutes later or when my husband or my son comes home it gets messed up again. I did dishes and vaccumed the whole house. I cleaned my son's room up. He is becoming a very messy boy. I am getting him to keep his room clean from now on or no movies in his room. I say that because he has a TV and VCR in his room. So far he is doing a good job but sometimes he lets it go. My husband went out with some friends tonight. I told him he should go out once and a while because all he does is work. I get to go out once and a while too. He usually watches the kids for me. We are having friends come over on Sunday so I am trying to make sure everything is tip top so I don't have to run ragged all weekend. When I got some free time on the computer I made some new adoptables using some more tubes that I found. I think they are darling. I hope someone wants one so that they have good homes. I changed a couple of this on the main page just slightly. I put an updates part below the blinkies and adoptables section. They are both shown together now, then the other parts of my blog are below them. I am going to take a shower now that the kids are asleep. Seem's like the only time I get any privacy anymore. But I would never trade motherhood for the world.
Posted by
at 11:29 pm
December 11, 2002: I have been getting a lot of kind words from my fellow bloggers. I appreciate all your support and belief in me. I created some new adoptables today, using some tubes that I found. I also made a few more blinkie shelves. John didn't have school today because the roads were icy. Not a whole lot to write about today so I will cut this short. Thanks again for everyone's support.
Posted by
at 10:59 pm
December 10, 2002: Today was just like everyday. I cleaned up the house, did the dishes and laundry. A women's work is never done. I watched movies with my husband before he went to work. John is watching movies in his room, I am getting ready to put him to bed. Lillian is sleeping in her playpen, here beside the desk. She's asleep. I just finished making a few new signs for groups on my blinkies page. I also made some new blinkies and racks. I think they are cute. You can find them here if you would like to check them out. No one has said anything more about my graphics so I hope everything is alright now. Thank you for those of you that are supporting me. I'm glad that you all think of me as an honest person and that I wouldn't do anything like that. I am probably going to make some more things tonight before calling it a night. I will also be visiting some of my fellow bloggers too.
Posted by
at 8:57 pm
December 9, 2002: Today was a busy day. I sent John to school. I had to reschedule Lillian's appointment that she had for tomorrow for today. My car broke down so I had to get Shawn to take John to his appointment. My mom was going to watch Lillian anyway because Shawn has a truck and we wouldn't have been able to fit everyone in the truck. So what I did was schedule Lillian's appointment at the same time so that mom could take her to that. Shawn and I went to go pick up John from school, we took him to his doctor's appointment then took him back to school. Luckily he was only gone for 1/2 hour so they didn't count him absent. I would have argued with them if they did. Well everything turned out fine. Lillian got to her appointment and John got to his. After all that I needed to get out and relax, so my mom offered to take me to bingo with her. This time we played for money. I won $50. I took a day off of making blinkies, but I am thinking up some saying for new ones so keep coming back to check out what I have made. Now I am off to bed, I'm tired.
Posted by
at 12:13 am
December 8, 2002: I cleaned the whole house. I scrubbed the kitchen floor, rearranged the kitchen closet and moved around some appliancances. I put away the Christmas decoration that I didn't use. John came home around 6 o' clock from my mom's. He stayed there last night. Shawn and I watched horror movies all day. We watched Halloween 1 and 2. Then we wathed Nightmare on Elm Street 1, 2, and 4. He is watching Freddy's Dead now. I got on the computer around 8 o'clock this evening. I made a whole bunch of blinkies. I added them to the page. I made a few new graphics for the blinkie page. I made little signs for each group. I keep coming up with blinkie ideas it's crazy. I need to make one that says "Life is a blinkie saying" or something like that. I made some really cute fairies too, that I put on the adoption shop page. I had made some fairies before but I thought I would give it another shot. I think I did a great job with them. I am learning new techniques everyday. I am teaching myself basically. Just like my husband and I taught eachother HTML and JavaScripts. I am pretty tired so I am going to call it a night and get some sleep.
Posted by
at 12:46 am
December 7, 2002: I finally got to do some Christmas shopping today. I went with my mom. We went to the Dollar Zone. They have got some really cute things in that store. I am going to have to go back. I didn't realize how much I had spent until I got up to the register. It was almost $50, but I really got some good deals. I got myself some little hanging racks that are so cute. One has gingerbread men on it and says "Gingerbread", one has angels on it and says "Angels Gather Here", one has snowmen on it and says "Snowman Collector" and the other has mittens on it and says "Warm Wishes". I also got some candles. The glass cup has pictures wrapped around them. I got four of them for myself, one has a garden with sunflowers, one has lighthouses, one has chickens, and the other one has birdhouses. I also got a lot of little gifts for my daughter godmothers, who are also my dearest friends. I even got some things for John and Lillian. After we went there we went to eat at Ponderosa. Then we went to the store where I could pick up a few things that I needed. When I finally got time on the computer, I made some more blinkies. I have been getting really good at making them, they are so fun to make. Along with all the other graphics I've been making. I got an award from Danette of Once Upon A Moment for the hard work that I have been doing on my board. I am still getting people that think my graphics are copied. I can't believe it. But I know that truth and that is that I am an honest person that would never steal from other people. My inspiration are my children.
Posted by
at 10:55 pm
December 6, 2002: I kept John home from school today because he was coughing all night and sneezing. They had school though, because it didn't snow again. He kept wanting to go back outside and I had to explain to him that he couldn't because when you stay home from school you can't go outside. Finally after a couple hours of arguing with me, he finally stopped. We mostly just watched movies. I rearranged the living room. I think it looks kinda cozy now for some reason. We had the couch in front of the window facing the front yard, so I moved it over to a different part of the wall. It looks pretty good, now we can see outside when we sit on the couch instead of twisting our necks trying to look out. I came up with a few ideas for some quizzes I'd like to make. I made a couple of little graphics for the Blinkie Lover Zone, which by the way is looking better and better. I am finally getting request for my blinkies. I love it. Which also means that I am getting better at it. I am having so much fun with this. I can't believe everything that I have done just in what little time I have on the computer during the day. John is taking his bath and Lillian is sleeping. I am looking for some pictures of Peter Rabbit. I have some cute ideas for some more blinkies.
Posted by
at 7:27 pm
December 5, 2002: Today school was cancelled because we got about 3 inches of snow last night. So John got to go sled riding again. He played outside for about 4 hours before he decided that he was too cold to play anymore. He stayed in the rest of the day and watched movies. I gave him some chicken noodle soup and hot cocoa. He started coughing and sneezing alittle bit so I made him get his pajamas on and cover up with a blanket. I cleaned house like I do everyday, (a mother's work is never done). Lillian was a little cranky today because she has the sniffles again. She always has a smile for me though even when she's not feeling good. Both kids are asleep now. I thought it would take me forever to transfer all my blinkies over to this server but it took only about an hour. I rebuilt the whole page. All I really did was cut and paste. Then I took all the blinkies off that I don't have links for and made sure all the ones I did have a link for got put in seperate groups to who I got them off of. So each and every blinkie now has a group and link back to the creator. The blinkie page is now called Blinkie Lover Zone.
Posted by
at 10:05 pm.
December 4, 2002: Today we went grocery shopping. I couldn't believe the sales at the store we went to. We got a lot of bargains. For instance, I picked up about 6-8 bags of Betty Crocker Brownie Mix, which was 2 for $1.00. My husband stocked up on Campbell's soups, Vanilla Coke, NewCastle Brown Ale, and baby carrots. Which was also on sale. Also to my delight and my husband's pain, he will now be constipated until the year 2004. Just kidding. As far as computer things go, I have been working hard to get all the links tacked on to the blinkies. I actually found a couple of sites that have the same blinkies for sale, but I knew which on was right. I will probably email the person and let them know. Like I said on the blinkie page, it is going to be a big job but I will get it done. There are a lot of them already linked. I made some new graphics this morning and this afternoon. I am getting really good at it. The teddy bear on the main page is my favorite so far.
Posted by
at 10:59 pm
December 4, 2002: I have been very busy making my own graphics. I am putting together some sets that I will make available to buy. I made a couple more blinkies. I tried to make sure that I had all the sites that I got blinkies from. That's hard work when you don't get them the first time. It's sad when you realize how much stealing goes on over the net. I have seen a couple sites already that have blinkies that they claim are those but then I see the same ones on a different site saying the same thing. When I get blinkies from other sites, I don't intentionally not give credit. Giving credit is very important and I respect that. I went to my gynocologist today for my yearly check-up. The good thing is I don't have to go back for another year. I finally got the lights fixed on the windows outside. They look so much prettier and better. It's getting late so I better get to bed before I fall asleep sitting here.
Posted by
at 1:55 am.
December 2, 2002: I just finished making my own graphics for the whole site. Like backgrounds, bars, buttons and things like that. I hope everyone else likes them because I sure do. I think I did a pretty good job for the first time doing an entire set. I was too tired last night to post an entry. My mom hosted another session of Dirty Bingo last night. We had lots of fun. Lillian got passed around when she wasn't sleeping. John came a little later during the night. He was pretty good. I won a coffee cup with a mouse and candy bars in it. It's very cute. I also remade some adoptables that were said to be someone else's. I was a little upset but I can see her point. I redid everything so that it looks nothing like hers. I hate being accused of stealing but I guess somethings did look a lot like hers. No hard feelings on my part and I hope she feels the same. Today I am going to fix the lights that I didn't get a chance to do the other day. We are probably just going to watch movies and snuggle up in front of the fire place today. It's pretty cold outside.
Posted by
at 11:36 am.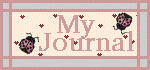 All graphics are made by me.
©Ladybug WebCreations 2002