November 30, 2002: Right now it's snowing outside. It's only 5:41 and it's dark outside. The snow is very beautiful. I can't believe that it's almost December already. Where does the time go. Lillian will be 6 months on the 13th. That is the same day as my mother's birthday. I finished decorating the house, it looks beautiful. Shawn said that yesterday wasn't as bad as he had expected. They we're still very busy but it wasn't so bad. I called around to some electronic stores to check and see if the carried a drawing pad for my computer. Most of them are around $100, which isn't bad I suppose. I would like to get one so that I can draw graphics. It would probably be a lot easier than trying to draw with just the mouse. My hands are steady enough for that. So until then I am going to hold off on making any more hand drawn graphics, except blinkies and things like that because those are easier to do. I am going to be putting this entry in the November Archive tomorrow after I post tomorrow.
Posted by
at 5:42 pm
November 29, 2002: We had a wonderful Thanksgiving dinner with my parents. The food was delicious. Everyone loved my brownies. My mother also kept the kids for the night so that Shawn and I could spend some alone time together. We were going to meet some friends but that didn't work out. So we just came home and watched movies together. Today I put up the lights outside because we had fairly warm weather compared to what it's been the last week or so. I decorated a little bit inside the house. I will probably put up some more things later this weekend. We still have to get our tree. It gives me some time to figure out where we are putting it this year. Shawn went back to work this morning but he was dreading it. He is a cook at a local restaurant in our mall. He said that today is known as Black Friday in the retail and food industries because of all the people and the sales going on. I hope he has a good day. I made my first name blinkie for someone else. I made it for Miriam. I have been thinking up ideas for graphics. It seems that I am getting better and better at it. I would like to invest in a drawing pad so that I can make graphic sets and other things.
Posted by
November 27, 2002: Today John got to go sled riding. We got some snow last night that stuck. It was also snowing some today. The snow starting to melt this afternoon, but I think we're supposed to get some more this weekend. We've already had our first snow, but last nights was the first to actually stick to the ground. When he came in we had hot chocolate with little marshmellows. I also made him some chicken noodle soup. He really liked that. I brought in the Christmas decorations but I'm not decorating until this weekend. We are going up my parents tomorrow for Thanksgiving dinner. I am making brownies to take there. I asked her if she wanted me to cook anything, but she insisted that she do all the cooking. I told her I wanted to do something, so we decided that I could make the brownies, lol. As far as computer work, I made some name blinkies. I made them available for adoption. I came up with some really cute ones too. The samples have my name on them, but I can put your name on it if you would like one. Happy Thanksgiving from the Denson Family.
Posted by
November 26, 2002: I was tired of my TagBoard being out all the time, so I got a new one from Zonkboards. I decided to add a cookie recipe exchange on my blog so that we can all share our favorite recipes. I hope everyone will send me a recipe so I can have lots to share. I also added an archive section. Each month I will put my entries into an archive. Stuff I did that was unrelated to the computer was: I did the dishes this morning and cleaned the house. I also finished up the clothes. I was going to get out the decorations from the outside storage closet but I decided to wait on that until this weekend. I don't really want to rush anything. Lillian is feeling better today. She is starting to sleep longer. John is off from school until the December 3rd.
Posted by
November 25, 2002: Today I cleaned house and did laundry all day. I made spaghetti for dinner. I am about to give Lillian a bath in vapor wash. She is a little fevered. So this is going to be a short entry compared to my other days. I will tell you more later.
Posted by
November 24, 2002: Today was our Thanksgiving family get together. We had a good time. We exchanged names for Christmas gifts. The kids got a toy and treats. We also talked about the cookie exchange that we are having. There is going to be 10 ladies making cookies this year. That means I have to make 20 dozen cookies. Wow! We have to make 1 dozen of 2 different kinds of cookies. It pays off in the end because you get all kinds of cookies. I also got a gift of $50 from my aunt, for Lillian. She gave that too me and I didn't know what to think. I told her she didn't have to give me that much, but she said take it use it for her. I havent' started my Christmas shopping yet. I will be starting it soon though. Christmas is creeping up fast. But I still manage to keep the real reason in my head. I hung a window cling candy cane upside down to symbolize the "J" in Jesus. I read the story about the candy cane and it really touched me. Everyone asks me why I have it upside down, I tell them the story.
November 23, 2002: John went up his grandparents for the night. So it's just me and Lilly. I cleaned house while she sat in her walker. I found some time this afternoon to make some really cool blinkies. My mom gave me a calendar from a Chinese restaurant that they visited last week. It has the Chinese New Year animals on it. I made some blinkies with each animal and the years in which they fall on. John and I are Rats. Shawn and Lilly are Horses. I added them on my adoptables page so that you can adopt one if you want. I also made another pretty blinkie about sunsets. I am going to watch some more movies before Shawn gets home. I'm making Burritos for dinner tonight.
November 22, 2002: I have been having so much fun making graphics and blinkies that I have decided to take requests. All the forms to request things are on the same page. There are three different forms, so you can choose which on you want. You can find the link on the Win An Award Page, and the Ladybug's Adoptables Page. I made a Christmas card and have already given it to a few people. I've done a lot considering I don't get on the computer very much during the day.
November 21, 2002: I had a pretty busy day. Well it was busy in the evening anyway. I went to Turkey Bingo again with my mom. This time we took John and the baby. I went nuts. I guess he was too bad. I won some candles. One smells like cinnamon rolls, one smells like blackberry pie, one smells like peach pie and the other one smells like strawberry shortcake. I think I like the strawberry one the best. There was a lot more prizes this time because it was played at the high school. I've been getting into the Christmas spirit here lately, I've been watching Christmas shows. Today I watched National Lampoon's Christmas Vacation and Mickey's Christmas Carol.
November 20, 2002: I gave out my first award today to Miriam's World. I was working on making some quilt squares and adding a quilt page to the blog. I added a few squares from other sites already. I didn't add my square yet but I will probably do that later on tonight. Today was about the same as it was yesterday. I went and paid our phone bill. I gave Lillian some strawberry applesauce that John got from his kids meal from Kentucky Fried Chicken, she liked it. I will be making an archives here pretty soon. I will more than likely just finish this month up and then make archives starting in Dec. It will either be for the whole month or half of the month, I haven't decided. I am also thinking about putting a recipe page up and a couple other projects I'm working on. This blog has become a fun place to experiment with. I am really enjoying this.
November 19, 2002: Today was pretty much uneventful. I just cleaned house and did laundry. Right now I am watching two other children besides my own. A friend of mine had to go to a funeral. Lillian is sleeping and John is getting his bath. He will be going to bed here because he has school tomorrow. We have been watching movies most of the day. My husband had the day off so we spent some time together.
November 18, 2002: We got our family pictures done today. They turned out really nice. I got a proof sheet. The actual pictures won't be in until December. We went out to eat at Applebee's. Then we went to Walmart to pick up a snack for John's snack day tomorrow at school. I also picked up A Christmas Story on DVD. That is one of my favorite holiday movies. All in all today was a pretty good day for me.
November 18, 2002: I couldn't post last night because Tripod's server was down. I went and paid bills. Now I don't have to worry about them for another month. We are getting our pictures taken today. We haven't had family pictures taken for about 3 years...lol. Now is the time because our family has grown in numbers. I will post more on this day tonight.
November 16, 2002: I took John to see Harry Potter and the Chamber of Secrets today. It was really good. A lot "darker" than the first one. A little girl that was sitting behind us got scared. It was real quite when this little girl told her mom, "I don't like this, I want to go home now." And everyone said "Ahh". John jumped a little but he seemed to like it. We went to see an early show because this evening I went and played Turkey Bingo with my mom. I didn't win a turkey but I did win a snowman lamp. It is very cute. It has a candle for the light, a small lamp shade with snowmen on it, that is on top of a jar. Inside the jar there is a snowman and sparkles. I am going to put it in my living room I think. John and Lillian are staying with their grandparents tonight, so I may actually get to sleep in a little.
November 15, 2002: I was on a blinkie making kick today. I made some blinkies for my collections. I have been wanting to do that so I decided that I didn't have anything to do when I put the kids to bed, so I made several blinkies. I put them on the adoptables page so that you can adopt them if you want. They are also on the page about me. I made a few just for fun, two holiday ones and just one that I thought would be cute. Those are also on the adoptables page. I am taking John to see Harry Potter and the Chamber of Secrets tomorrow. I think I'm looking more forward to it then he is. I was sad to hear that Richard Harris passed away not to long ago. He played Professor Dumbledorf.
November 14, 2002: Lilly rolled over for the first time today! It was so cute. We had her laying on the living room floor on a quilt. She was on her back. She started to push her legs up under her belly, making her butt go in the air. Then all of a sudden she rolled over to the left. We put her on her back again so we could see it again. Shawn and I just laughed. I was so surprised because she did it out of nowhere. She had been trying the past month to roll over. I adopted more things today. I decided to make some Birthstone Ladybugs for you to adopt. They are on the Ladybug Adoptions page. I am thinking about creating some more graphics but time is slim right now. I'm drawing up ideas through the day when I have a minute. I will be making little things here and there, such as blinkies. I've been thinking up some really neat blinkie ideas. Can't wait to share those. I might just make a couple tonight before my husband gets home. He usually wants the computer when he comes home from work.
November 13, 2002: Lillian is officially 5 months old today. Yay for her! Today was very productive. I made some awards and adoptions that had someone else's graphics in it, with only good intentions, not to plagerize. She told me that she couldn't allow me to do that. I understood her concerns. Thanks to her refusal I decided to try my hand at graphics making and low and behold I did it. I made some adoptables and awards. Both links are on the main page. I really enjoyed making those so I am going to make some more soon. It takes a lot of work let me assure you. I give other graphic makers my utmost respect after going through what it takes to make something. And thank you very much to Helena the webmistress of Graphic Garden for inspiring me to do it myself. I hope you enjoy my new graphics.
November 12, 2002: As you can tell by my mood indicator, I finally got a good night's sleep last night. Lillian was finally able to get some sleep herself. I changed her routine a little. I bought some Gerber Vapor Bath and put some in a warm tub of water. I let her splash around in that for a little bit. That made her feel better. Then I warmed up her bottle. She usually likes it cold, but being sick I thought it would be better if it was warm. Well that worked like a charm, cause after she drank that she was out for the night. Hopefully tonight will go the same. Shawn got Star Wars Episode II on DVD today before he went to work, so that is what I'll be doing tonight.
November 11, 2002: Last night my mom took Lilly, but she called around 3 am to get her because she was so fussy. So needless to say, it was another rough night. Today I called her doctor. There is a viral infection going around that contains the same symptoms as she does. She can hardly breath when she is laying flat on her back so that is why she won't sleep. Now that we know what to do we are laying a pillow under her blanket that she lays on. Hopefully tonight I can get some sleep. This is the first time she has gotten sick since she's been born.
November 10, 2002: Lillian was really fussy last night. I hardly got any sleep. We finally took a nap for a little bit this afternoon. But then she was still fussy throughout the day. My mom took her for the night so that I can get some sleep tonight. I thought that was very nice of her. It's hard when you don't know what to do for a fussy baby. I don't think she has colic though. On a better note, I got to play "Dirty Bingo" with some friends. We play bingo with gifts instead of money. The object of the game is to get as many gifts as you can the first half. Then when all the gifts are gone we unwrap them to see what we have. We then eat and rest. After that the second half of the game is when the fun really starts. When you win a game you get to take someone else's gift. One person could end up with all the prizes and one can end up with none. It's pretty fun. I ended up with 3 prizes. I did have 6 at one point but someone kept taking all my stuff. We play this once a month. This is probably one of the only times I get to go out without the kids. I was visiting my close friend and there was a babysitter there that watched the kids while we played bingo.
November 9, 2002: Today was okay. The weather was warm in Ohio for it being November. John is staying at his grandparents for the night. I had to take Lillian to the doctors because she sounded really conjested when she woke up and I didn't want to take a chance. The doctor said there is nothing in her lungs, it sounds like it's all in her nose. Right now she is sleeping. I am getting the sniffles too. That is one of the prices of being a mother, but I wouldn't trade it for the world. I think we all have seasonal allergies. It never fails that one of us gets sick around this time of year. I'm not feeling completely bad, just a little bit of the sniffles.
November 8, 2002: Today is my son's 6th birthday. We had a party for 25 of his friends. Now that was fun. It turned out to be a great party. All the kids had fun. John got lots of presents. He made out like a bandit. Lillian is getting the sniffles. I think it might have to do with her teething. John is starting to get his bottom tooth back in. And the one next to it is coming loose. He got one of his top teeth knocked out by hitting his face on his scooters handlebars. I think I was more shook up then he was. He is okay though. This happened about 3 months ago.
November 7, 2002: I went to a conference with John's teacher today. She said he is doing well but he needs to work on his organization. She said that most boys have trouble with that at first and they get better at it throughout the year. He is doing well. I am so happy for him because I was told that he wouldn't make it in Kindergarten. But he proved everyone wrong. I stuck to my guns and supported him all the way. I think Lillian is starting to teeth because she has gotten quite fussy the last couple of days. Poor girl. John's birthday is tommorrow. He will be 6 years old. My how time flys.
November 6, 2002: I have been working on this site a little today. I made some banners for links to my other sites and a couple to the other pages on this site, including this page. I am going to add a tag board to the site. And I'm hoping to get some blogging buddies. I would really love for my site to become someone daily reads.
November 4, 2002: This is the very first entry for my new blog site. I have been working on this for a couple of days now. I am getting this site built slowly but surely. So far I have built three pages. I am going to work on the banners for my site links hopefully very soon. I should have them up either tomorrow night or the next day.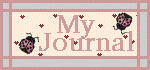 All graphics are made by me.
©Ladybug WebCreations 2002