March 31, 2003: I didn't get a chance to post about last night's party so I thought I would make an entry this morning. Yesterday morning when I woke up to get Lillian a bottle I took out the hamburger to thaw, and a couple hours later when we woke up I went downstairs and prepared the hamburger for the chili and the dip. Then I started to straighten up the house. While doing that I made the chili and let it simmer all day. Then when my mom brought John down I had her bring her crock pot so that I could make the dip. A friend of my husband's from work came to dinner. He said he loves my chili. The guests started showing up around 7 pm. By the time Wrestlemania started we had around 20 people in our living room. People sitting on the couch, chairs and the floor. Most of the guys were drinking and a couple of the women. I didn't drink by my husband did as well. Everyone loved my dip. I made a big crock pot full and it's gone. We were laughing and cheering all night. It turned out to be a really great party. The best part is, there wasn't really a mess to clean up afterwards. I figured there would be beer cans everywhere and pizza boxes all over the floor, but everyone was very respectful. We all had a good time. When I put John and Lillian to bed I waited a few minutes to go downstairs and while I was upstairs with them I made a couple of blinkies about the war. They are on display on the front of this page and can be adopted at Blinkie Lover Zone. I gathered up all the cans and boxes this morning. I'm so glad it wasn't a total mess. I will post again later.
Posted by
at 11:28 am
I finished cleaning up from last night and took out the trash. I wasn't really bad at all. I saved the dishes for tomorrow, because there isn't that many. I am also letting the crock pot soak in water too so that it will be easier to clean. My husband went to his darts league. While John rode his scooter outside for awhile I went ahead and started my walking tapes again. I walked 2 miles. The kids and I just watched TV most of the night. We ate dinner then came up stairs. John took his bath and watched a movie. Then I read him a story. Lillian ate some cereal and is fast asleep right now in our bed. I am going to put her in her crib in a few minutes. I just got done making some more name blinkies. I added them to the Blinkie Lover Zone Club. I have quite a bit of members now, I am very happy about that. I am going to go downstairs and watch some TV before I go to bed.
Posted by
at 10:07 pm
March 29, 2003: Today was a really fun day. My parents wanted Lilly and I to go with them and John this morning. My husband had to work so I told them I'd go so I wouldn't have to stay home by myself. They wouldn't tell us where we were going. We went up towards Pittsburgh to Chuck E. Cheese's. That was a lot of fun. We played games and ate pizza. I felt like a kid having so much fun. Lillian even enjoyed herself. She only took a little cat nap in the car on the way home. But after we left Chuck E. Cheese's we went to the South Hills Mall. They have a store in there called Build A Bear Workshop. It was really neat. You pick out a bear "skin", an outfit, then they stuff it, you name it and you get a birth certificate. The price isn't bad either. The bear cost $10 and the outfit was $10. The total was around $27 because I guess they charged for the birth certificate and the stuffing but it's nice price for something like that. We got a chocolate colored bear and got a cheerleading outfit that matches the colors of our school, red and white. We named her Lilly. I got it for Lillian because John got a new bike when we went to Walmart after that. It's a really nice bike too. Well when we finally got done we came home. John went to spend the night with my parents. Lilly and I watched some TV. I watched Dr. Doolittle 2, when it was over she started to fall asleep in her walker so I brought her upstairs. She is still sleeping right now. I'm not surprised because she had a big day. Tomorrow we are having a bunch of people over for the Wrestlemania party. So I am going to be cleaning house again in the morning. One of my husband's friends is coming over early to have dinner with us. I am making Chili. I actually did some of the straighting up tonight in the living room so there's not really much to do. The house is still clean from when I cleaned it for the inspection. Well I going to make some graphics and blinkies. I will update the Blinkie Lover Zone Club tonight. I am thinking about adding a couple of collection characters to the club. I am still working on those but I will announce it when they are ready.
Posted by
at 9:45 pm
March 28, 2003: Today was a another beautiful day so instead of doing housework Lilly and I sat outside a little bit. There was not much housework to do anyway since I cleaned so well this past weekend. Everything was still pretty clean, except for a few dishes and some toys and school papers in the living room, which I did take care of this afternoon when John came home. We were sitting outside with a friend of mine and Lilly started fussy so I brought her home and she wanted to go to sleep. I took a little nap with her until 3:20. She was still asleep so I got up before John got home. Then when he came home I let him go outside to play. I did up the dishes and picked up the living room. I had to go upstairs and get Lilly up. She was still tired but I didn't want you to sleep to long. Her and John are playing in the tub right now. I hear John splashing and Lilly laughing at him. I am going to wash her off and give her a bottle here in a few minutes. I have been taking a break from any blinkies or graphics here as of late. I am still a little sick but am feeling much much better. I am thinking about making some more adoptables and some new page sets. I need to practice making them because I would love to make a career of it. I don't actually have a whole lot of time because since my husband is working more days he is wanting on the computer at night more and that is when I have the time to be on. He is, however, closing tomorrow night and John will be up my parents for the weekend so I might work on some things then. I also haven't been doing my walking tapes very much this past week, but I will start back on those when I am feeling better. I will probably start up again on Sunday. Well I need to go give Lilly and John a bath.
Posted by
at 7:34 pm
March 27, 2003: After I put John on the bus Lillian and I went with my mom to her doctor's appointment. My husband said home and rested for tomorrow. He is still sick but said he was feeling somewhat better today. After the appointment we went to a store called Aldi's that is a discount grocery store. I got some of the ingredients for a dip that my husband is making for our party on Sunday. Then we went to eat lunch at Eat n' Park. After that we went and got a few things at Walmart then we went to another grocery store so that my mom could get her prescription filled. We also picked up a few things there. When we got home I started on a couple loads of laundry. By the time we did get home it was around 2:30 pm. I washed my husbands work clothes and a load of whites. I am going to do the rest of the laundry tomorrow. My husband goes back to work tomorrow and works day shift. I was going to make some more name blinkies but I didn't have the time to make them last night. I am trying to find an easier way to make them but there doesn't seem to be any. They are not hard to make but it does take a lot of time, especially the ones where it has the bouncing effect. Well I am going to take a shower then I am going to go downstairs to watch TV with my husband. Both the kids are asleep so this is the perfect time for alone time for the parents.
Posted by
at 9:30 pm
March 26, 2003: After I put John on the bus I put Lillian in her walker and I finished cleaning real good. I scrubbed the kitchen floor on my hands and knees because I couldn't get the nooks and cranny's good with the mop. So I sprayed the corners and underneath the stove and refrigerator with the cleaner. I got all of it up too. Then I did the dishes and cleaned all the windows. I made all the beds and straightened up John's room again. My husband offered to vaccum again so he vaccumed upstairs, downstairs and the steps. Our inspection was this afternoon and we passed with flying colors. She told me it looked great and she didn't have any doubts that it wouldn't be. She mentioned that there was a couple of people that gotten written up once again for dirty housekeeping and one of the ones that did is the person in front of me for the 3 bedroom. She said that since this lady has gotten written up so many times that I would more than likely be the one to get the 3 bedroom next when it becomes available. I am hoping this Summer but I'm not sure. My mom invited me to go to Bingo with her tonight so my husband watched the kids so that I could go. I won $40 which will go toward our internet provider and food for our Wrestlemania party on Sunday. We might go to the store tomorrow depending on home my husband feels because now he is sick. We aren't kissing eachother on the lips so we won't spread it back and forth again and again. Hopefully we will all be over it in a few days. I am going to make some more name blinkies. I made a little star to bounce on the blocks and I am going to figure out some other cute shapes to do that. I still want to make some more with the stars with the different colors like the other ones. Like always they are on display at the Blinkie Lover Zone Club. I also put a little update on the main page here too. Well I'm off to make more name blinkies.
Posted by
at 10:50 pm
March 25, 2003: Today I felt a little better so when my husband went to work and John went to school, I stayed up and cleaned the house. My building's inspection is tomorrow. I think I'm ready now. I took a little bit of a break and made some blinkies. They are like the one I am using now in this journal. I made 4 of them with different colors. I think I am going to make some more. These one's take more time but they are cute. With my name it takes 17 parts to put together and my name only has 6 letters. They are on display at the Blinkie Lover Zone Club. I have a few new members also. My club is growing daily and I get a lot of compliments. I'm so glad people like my work. It takes a lot of work and imagination to do these sorts of things and its great getting compliments. After I was finished making those I watched some TV. My husband got home early and since it was such a nice day he went outside to play some basketball. We had the cook-out as planned. It turned out real nice. We had a lot of fun sitting around and talking. Lillian was just a little bit fussy because she didn't take a very long nap, which probably explains why she is sleeping right now. I am going to get John a snack and then go watch TV with my husband.
Posted by
at 7:43 pm
March 24, 2003: Today was a beautiful day out. This morning after John went to school and my husband went to work, I laid down with the baby for awhile longer because I am still feeling so worn out. This cold has really got me good. When we finally woke up about 11:30 am I started doing basic cleaning again. I cleaned out the toilet and picked up clothes and things. I moved some things around in our kitchen closet where the heater is because I had a couple things sitting in front of it and they don't like you to do that. Nothing major though. I didn't do the dishes because there really wasn't that many. I'm going to do those tomorrow though. After I got finished Lilly and I went outside and sat with a few of my friends and talked. They had there little kids playing so we just sat and talked. We decided to have a cook-out tomorrow. Our landlady came over and talked with us and told a few of us that she wouldn't be inspecting our building until Wednesday. I thought to myself, that's good I'll have another day to get everything else done. Actually I am done I just have to vaccum again and do the dishes. She said to me that I have nothing to worry about because my place is always clean and tidy anyway. When John came home we went back outside til about 7 pm. Right now he is watching a video in his room and Lilly is sleeping on our bed drinking a bottle. She is probably asleep. I made a couple blinkies lastnight and I'm going to make a couple more tonight. I didn't update the Blinkie Lover Zone Club yet but I am tonight when I get the other ones done. I made on the says Eminem, Jason Lives, and tonight I am going to make a few for Easter. In fact I am going to those right now.
Posted by
at 7:52 pm
March 23, 2003: This morning Lillian and I went to the store with my dad because he needed to get some medicine for my mom. I told him I'd go with him because I wanted to pay the electric bill. While we waited for the prescription to be filled I did a little grocery shopping. I got some Beef Stew to make for dinner. I also picked up some orange juice, chocolate milk, cookies, crackers, Hot Pockets, and a few other things. I am feeling a little better but I am still feeling worn out. When we got home I wanted so much to just lay down and take a nap but I needed to get the house finished for the inspection. I talked to our landlady and sorta got good news from you. I told her that I have been sick this weekend so I let her know not to expect great things and she told me that there will be inspections all week long so ours might not get inspected right away. That would at least give me another day or so just to make sure everything is right. I pretty much got everything cleaned up as it is because of the spring cleaning I did before I knew about the inspections. All of the apartments are getting one. Well today I just did the dishes and vaccumed the floors. I got my dad to take up the boxes I had laying out so that they wouldn't be in the way. We have some nice size apartments but not enough room for just letting things lay around. Lillian was being a little fussy earlier but after she took a nap she became a chatterbox which is what she is doing now. I took this opportunity of free time to update my blog. I added some gifts to my blog buddies page. And I also added a gift I got from Antonia on the front page. Oh yeah, after I finished with the housework I started my walks again. I got out of breath because I still have the cold so I started out slow. I did the 2 mile today. Once I start feeling better I am going to do the 2 mile tape, 2 times a day. We will see how that works out. Like I said before, I am begining to feel better but my throat is still sore. I am going to try and visit a few people later on tonight.
Posted by
at 2:46 pm
March 22, 2003: I am so worn out today. I have been sick the past week or so. I woke up yesterday and couldn't talk at all. Today my ears and nose are stuffed and I have been sick to my stomach. I need to clean up the house because we are having an inspection on Monday. Hopefully I will feel better tomorrow so I can do some work. I forced myself today to do some cleaning. I put away my husband's clothes because they were still packed from when I did it. I would have made him do that but he had to go to work. Then I cleaned up John's room. Tomorrow all I really have to do is get the boxes of stuff that I am getting rid of and take them up my mom's. Then just do the dishes and straighten up. I have been cleaning all week so there's not too much to do. Thank goodness I did the Spring cleaning when I was feeling good. This cold came on all of a sudden. I hate being sick, especially when you have children to take care of. I have a little break from kids because John is staying up my mom's but I still have Lillian. She is asleep now. I am probably going to go to bed here shortly because I am just so tired and worn out. I actually was able to visit some people today. I was suprised because my comp was still messing up then it let me view some pages. I was glad to visit a few people. Hopefully I will be able to visit more later. I am going to take some NyQuil and heading off to bed now.
Posted by
at 10:17 pm
March 21, 2003: Well first I would like to take this opportunity to thank everyone who has visited me these last few days and gave me their well wishes and thoughts. Thank you so much. It's so nice to know that I have such good friends on the net. I have good news everyone! My marriage is not over. My husband left Tuesday afternoon and stayed away for a couple of days. He finally came home last night. First I will tell you what happened Tuesday. I was really depressed the whole day because my husband said that he was going to work but then when he got home he was going to pack all his things and leave. Well Lillian had a doctor's appointment so I took her to that after I got John on the bus. The doctor said that she is doing great, she weighs 17 lbs and 12 oz. She is 26 1/2 inches long. He said by the looks of things she is going to be petite. After her appointment my mom and I stopped at the store she went in and got some boxes from the store room. They gave her three of them. So she put them in the trunk of her car. Then she took me out to lunch. She knows that when I get depressed that I don't eat and I cry a lot. Which is the reason why she drove that day. After we finished running erronds, she took us home and helped me with Lillian while I packed up my husband's things. Meanwhile, he came home a little after we did. My mom said that he had the look of shock on his face seeing me pack all his stuff. I asked him if he still wants to do this and he said yes. He took his shower and I kept packing. Well after he got out of the shower he went in the bedroom and seen all his clothes packed and sitting on the bed. I think that's what did it. He wanted to talk to me so my mom went downstairs and fed Lillian. Turns out that he really doesn't want to leave us he just needs to get away. I was thinking to myself, "must be nice." We hadn't kissed or hugged in a week, and finally he gave me a kiss and hug and told me that he really does love me and that he never wanted to go in the first place. He could never leave me or the children. So I let him go. He left Tuesday afternoon and didn't get home until last night. He said all he did was think about us and how much he wanted to come home but he knew that he needed to do this. I actually think, looking back now, that it was a good thing for the both of us. It made us appreiate what we both have in eachother. Moreso for him. It's really good to know that I have someone that loves me that much. He also told me that it wasn't so much me that made him angry and wanting to leave it was all the build up stress that he kept inside that he just blew up at me. I told him that if we want things to work out that he needs to talk to me more about his feelings so that this doesn't happen again. Because next time I am not letting him come back, and believe me that would be the hardest thing I would ever have to do. We are back together and stronger than ever.
Posted by
at 7:54 pm
March 17, 2003: Happy St. Patrick's Day everyone. Hope you all had a great day. I, however, did seem like I was having a good day at all. My husband and I are having some problems. It started last night. I don't know what's going to happen. I don't want him to leave but I don't want him to stay if he's not going to be happy. Like that saying goes, if you love them set them free and if they come back then it's meant to be. Plus I don't want him to stay just for the kids sake either. I don't really want him to go. I love him too much. I hope he comes out of this slump. He told me he wasn't happy with me anymore and that it upsets him that he doesn't come home to a "clean" house. I told him how clean does he want it. I clean everyday and the only time he notices anything is if there are toys or the dishes aren't done, then it considered not clean. So I did my Spring cleaning today, mostly to get my mind off things. I cleaned out our closet outside and got rid of a lot of things. Then I got some more things to get ready for my mom and I to sell. I cleaned the kitchen from top to bottom, did the same thing to the living room. Changed the sheets on our bed. Put away a lot of Lillian's cloths because I had some sitting out. Cleaned off our computer desk, cleaned off the dressers. Vacuumed upstairs and downstairs. It was supposed to get my mind off things but it really didn't work. Right now he is at his darts league game. Hopefully we will talk when he gets home. He has to work early again tomorrow then he has two days off. I really want things to work out between us. I hope it does.
Posted by
at 7:51 pm
March 16, 2003: Today was such a beautiful day outside. My husband went to work and I got up to clean the house. I did the dishes and cleaned the stove. My best friend, her boyfriend and her 2 kids came over. John came home from his grandparents. We packed a lunch and walked to the park. We let the oldest kids play while we sat and talked for a bit. Then we came home and we watched a movie. I made dinner for everyone then they went home. It was a fun day. We played with the kids a while at the park. We will probably do that again next weekend. I will usually do that anyway in the summertime. Lillian is old enough now where I can take her out more, plus it's not really that cold or hot right now. I sat outside and talk with my other friends this evening. When it was getting chilly I brought Lilly in the house and had John come in. Right now he is taking a shower. My husband is downstairs watching sports. He is going to want to come on shortly. I am going to do some Spring cleaning this week while John is in school and my husband is working. I'm starting that tomorrow. Well I'm going to get John out of the tub so I can take a shower.
Posted by
at 6:59 pm
March 15, 2003: Well my weigh in is today so I did that this morning. I lost another 2 pounds this week. I am so glad, hopefully I'll keep doing that. My mom wanted me to go with her and my dad to the mall. They were going to take John to play games at the arcade over there. And since I wasn't going anywhere she asked if I wanted to go. So I did. We walked around the mall at least twice so there is my 2 miles. Then we went to Toys R Us and she got Lillian some diapers. Then we went to the store and she got Shawn and I some pop. Luckily it was on sale. She also got Shawn a couple packs of cigarettes. I told her I was going to pay her back for doing that for us. Then we went to McDonald's to eat lunch. I also went up there house for a little bit so that she could spend some more time with Lillian. Then her and I came home. We sat outside with a friend of mine. It got too chilly outside so I brought her back in. Right now she is sleeping because she had a big day. I got 3 more members to my Blinkie Lover Zone Club today. I have 21 members so far. That is pretty darn good. I will probably work on some more blinkies this weekend. I hate not being able to visit anyone. Hopefully I will either get the problem straightened out or get our new computer soon. I appreciate everyone's kind messages and I miss you all. I will visit everyone as soon as I get it fixed.
Posted by
at 7:24 pm
March 14, 2003: My husband worked day shift today so I did some manager cleaning. I haven't started Spring cleaning yet but I will be starting on that next week. I am going to go through closets and other places and getting rid of a lot of stuff. That way when Summer it will be easier to move in case we get our three bedroom. I am hoping we do. We'll see I suppose. I am taking a break from making blinkies right now because I have another project I need to work on. Which needs to be done in a week or so. So I need to focus on that. I am thinking about starting a few projects on my own that I will be pursuing a career in graphics making. Maybe I'll be able to sell my work. We will see. As you may know I am an at home mom and I don't work. So what I want to do is do something I love and get paid for it. That would be nice. John is staying at a friends house tonight. A friend of his from school lives in the same apartment complex. Her mother is really nice and we are good friends. The little girl is in John's class. There are a lot of kids there tonight. I don't know if I could handle that but she said no problem. John is a good kid though. I hope he has fun. I really miss visiting everyone and I thank you all who have visited me. But until we get this bug fixed I won't be able to visit anyone yet. Hopefully soon though. Well I need to get started on that project.
Posted by
at 7:26 pm
March 13, 2003: Today Lilly turned 9 months old. I can't believe it. Seems like only yesterday that I was crying to bring her home. She is doing so much now. She is still a little behind since she was a premie but even then she is doing so good. Next Wednesday she has to get more shots and check-up. My husband, Lillian and I went to the store to get John's prescription filled. I got some milk, pop, formula, baby cereal and juice while we were there. John is being put back on Adderall because Strattera is doing nothing for him. He has been slacking behind in school because he is being more impulsive and losing his contration. So hopefully he will catch up when he goes back on his regular medicine. We'll find out. I wouldn't want him to get behind. He is doing so well. I didn't work on any blinkies today but we did download a lot of MP3s. I will probably work on some tomorrow though. My husband is watching wrestling and I might go down to watch it with him. I still can't visit anyone yet because I have to open up my page which is a Tripod page, and my computer is still messing up. So hopefully we will get our new computer soon and I can visit everyone again. Thanks for all your thoughts and wishes. Things are back to normal and better than ever with my husband's an my relationship. Things just get rough at times but most relationships go through that. I am thankful that I have someone like my husband because no matter what we go through we still stick together. Oh and I'm still doing my walks. I walked 2 miles again today. I am going to start walking the 2 mile tape twice a day.
Posted by
at 8:28 pm
March 12, 2003: I am doing much better today. In fact everything is back to normal. I have and need all that I've been wanting in our my husband and my relationship for a long time. We have had some rocky times but we got through it and I think it's made our relationship stronger. And I know that we will be together for a long time to come. My mind is finally free of the horrible thoughts that I've been having and I can focus on what I love doing now. Which is to make graphics and blinkies. I made some this morning and put them on display at The Blinkie Lover Zone Club. Where we now have 18 members. I'm very happy about that. The blinkies I added are the following: Aerosmith, Farscape, 7th Heaven, CSI, and My Little Girl. I am going to make a few more tonight. If you are wondering why I am making so many blinkies, it's because I've had requests for them. I like them so I also put them on display for others to get. My mom took Lillian to work with her this morning so that my husband and I could take John to his doctor's appointment. We went and got him from school, then after the appointment we took him back since it was only about an hour. John will be doing the Jump for Heart next week at school. I've been getting donations for him. He is doing great. So far we have around $150 in dontaions. He is jumping in honor of his grandmother, my mother who has suffered from numerous strokes and one heart attack. If you would like to donate anything for his jump email me and we can set up a snail mail donation. Anything will help. It's up to you how much you want to donate. The proceeds go to the American Heart Association. We have to take the money in on the 20th, so if you would like to help let me know. Well I am going to do some blog hopping if I can. My computer still won't let me look at Tripod pages. I am still using the editing software to update my journal. To all those who have visited me lately thank you for your kind comments and wishes. I love you all.
Posted by
at 6:14 pm
March 11, 2003: I'm having some personal issues that I've been going through today so I haven't done much work on the computer. I am trying to decide what to do. Hopefully things will work out for me and those others involved. I don't know what to think. I did manage to do a 2 mile walk today just to get things off my mind. I wanted to do another 2 miles tonight which I still might do. I'm not going to be okay with this until it's over. I wish I could tell you what is wrong but I can't say. I need to get my head straight before I can really get back into working on things. Hopefully that will be sooner than later.
at 8:13 pm
March 10, 2003: I am still having trouble with Tripod crashing my Windows. I have no idea why. I am trying to figure it out with the help of our friend who is the one that is building our computer. I am going to see if he knows. My husband worked day shift then he went to his darts league game. I finally figured out what I could do so that I can post in my journal. My husband had downloaded an editing program that lets you edit pages offline then put them in place of the old page through and FTP providor which we also have. So that is how I am posting now until we get that fixed. I have been swamped with blinkie requests and I am working on them when I have the time. I will be working on some more for the next couple of hours. Then I will be taping wrestling for my husband. As far as life other than computers, everything is going well. I am working out and I am feeling better about myself everyday. I am still doing the walking videos and still doing the 3 mile walk this week. I hope to lose more pounds this week then I have been. Well I better get working on those blinkies.
Posted by
at 7:12 pm
I added 10 new blinkies to Blinkie Lover Zone Club. There are blinkies for the following shows: Angel, Buffy the Vampire Slayer, ER, Charmed and Absolutely Fabulous. There are also blinkies for the following stores: Target, Walmart and Kmart. And there are a couple of other blinkies. If you are not a member of the club yet, maybe you should take this opportunity to join so that you can see the new ones. I am very proud of them. I almost forgot to tape wrestling for my husband but I ran down stairs and set the VCR. I am going to call it quits for awhile on the blinkies and go downstairs to watch the rest of it while I'm taping it. Just thought I would give an update on the blinkies.
Posted by
at 9:48 pm
March 9, 2003: Well I didn't get to post lastnight because Tripod was acting up. I weighed myself in the morning and I lost 2 lbs this week. I also did my 3 mile walk for a total of 18 miles walked for last week. I am making more blinkies tonight. We now have 15 members in my Blinkie Lover Zone Club. I have to go soon because John will be coming home from my parents here in a little bit. I will post more this evening.
Posted by
at 9:29 am
I'm having trouble with Windows. I have been making blinkies instead of working on the page because Windows keeps crashing. I am trying to fix it. I will update more tomorrow.
Posted by
at 8:25 pm
March 7, 2003: John had school today and my husband is work day shift. He said he was scheduled to work til 8 o'clock but most cooks that work that time usually end up staying later. I started cleaning the house when he left. I vaccumed upstairs and down. I cleaned John's room. Luckily it wasn't as messy as it has been before. I've been having him clean his room before he goes to bed at night. That seems to be working good. After I did that I did my 3 mile walk while my energy was up. Then I did the dishes. Lillian was taking a nap when I did my walk. Before John got home I had everything done. I made Pizza for us for dinner. My husband isn't home yet so I'm guessing he's going to stay later. I am watching a friend of mine's 1 year old boy. I was only suppose to watch him until 5:30 or 6 , then another girl was supposed to come get him. She hasn't showed up yet. I am alittle upset. At least he is being good. He is watching Barney with John. Well I am going to do some blog hopping and maybe make some graphics.
Posted by
at 7:35 pm
March 6, 2003: John didn't have school today because the roads were icy from the temperature going down during the night. My husband did go to work but he spent at least 15-20 trying to scrap the ice of his windshield. He still didn't get all of it but he went to work anyway. While John was watching cartoons I cleaned the house. Our maintance man came and replaced all our cabinet doors with new one. They look really nice. Our old ones were fraying at the ends and it looked horrible. I love the new doors, it makes the kitchen look nicer now. Then while John played outside I came upstairs and uploaded some blinkies that I made last night. Then I went downstairs and did my 3 mile walk. Right after I finished my workout my husband came home. He got cut early. He said they were pretty slow and since he was the first one there this morning he was the first one to get to come home. I started dinner around 4 o'clock. I made Lemon Chicken, Peas and Homemade Mashed Potatoes. We ate dinner and watched some TV. I left the dinner dishes until tomorrow. I am pretty tired because I've been up with the kids since 7:30 this morning. John fell asleep in his room watching TV around 7:30 this evening. Lillian is sleeping in her playpen. I am about to take a shower and go to bed myself. I made 4 more blinkies tonight. They are song titles from Loretta Lynn, Joan Jett and George Straight (I think). I uploaded them too, which makes 10 new blinkies added today. I am going to make some more tomorrow with song lyrics on them. Until them I am going to go to bed and get some sleep.
Posted by
at 9:52 pm
March 5, 2003: My husband, Lillian and I went to the store this morning. We got stocked up on groceries for the month. Then we came home and ate lunch. Lillian took a little nap while I did the dishes and watched TV with with my husband. Then this afternoon we went to my doctor's appointment. The appointment was in the same hospital that I delievered Lillian so we stopped by to see the nurses. They were all so surprised at how well she is doing and how cute she is. My doctor told me that I still have Mild Dysplasia but it's staying at the low grade level which is a good thing right now. She says it's nothing serious. In June of 2000 I had my cervix opening frozen, unfortunetly it came back so she is going to do that procedure again. I have that in a couple of weeks. She told me I have nothing to worry about now she just wants to go ahead and do that so it won't develop into anything serious. After we seen her we had to stop by the pharmacy and pick up my prescription. Then we went home. I made pizza for John. My husband and I had ultimate nachos. Right now Lillian is sleeping and John is watching a movie. My husband went over our friends house who is building our computer. He told us that there is just one more piece he needs and then we can transfer our files onto the new computer. We should have the new one by next week hopefully. I couldn't believe it when I checked my email this afternoon. I had 6 new applications for Blinkie Lover Zone Club. It's getting bigger everyday. Well I am going to go blog hopping and make some more blinkies. Oh almost forgot, I took a break from exercise today. I figure I deserve one day of rest since I've been doing so well.
Posted by
at 7:28 pm
March 4, 2003: After my husband went to work and John went to school, Lillian and I watched some television and cleaned house. Here and I took a nap in the afternoon. I woke around 2:45 so that I could do my exercise before John got home. I did my 3 mile walk. I had finished up right before John was due home. As soon as he got home he wanted to play outside. I let him since it's pretty nice out. It's in the mid-40's today. Spring is almost here! There is still a lot of snow but it is melting fast. Luckily it's not really flooding where we live. All of it goes down the drain. I know it's going to be muddy when it all melts. While John was playing outside I started dinner. I made mashed potatoes and corn. I just heated up the Meatloaf that I made yesterday. My husband left before it was done last night so John and I ate a couple of pieces and I just heated up the rest of the loaf for tonight. He got home around 5:15. We watched TV and ate dinner together. I gave the kids a bath. John and my husband are in his room watching Mighty Joe Young. And Lillian is laying on our bed just jabbering away. I got some good news today. The woman that has been using my blinkies has to take every single one of mine down. I reported her yesterday I think, and I got a response today from the president of the EZboard site. He said that if she didn't cooperate that she would have to take every single graphic off regardless of source. Well I checked again and she still has a few of mine on there so I told her to take those down too. A bad thing that happened though is that she kept emailing me very hateful emails. I couldn't believe what she was saying to me. Here is a couple of things that she said: "I wish you would die a horrible death," "I hate you", and a couple other things. Can you believe that? I didn't respond with as much hatred as she shown because I am a better person than that. I'm not letting that bother me though. I had a pretty good day. Lillian is saying Daddy now. I think my husband can hear it. At least I hope he can. It is so cute. I go and see my gynocologist tomorrow about my results of the test I had a few weeks ago. I was supposed to go in the week of the big snow storm but it got cancelled so I scheduled it for tomorrow. Hopefully she won't give me bad news. Oh I also added a couple of blinkies this morning and I now have 6 members to the Blinkie Lover Zone Club. It's growing slowly but surely. Well I'm off to do a little blog hopping before my husband comes back on the computer.
Posted by
at 8:36 pm
March 3, 2003: I had put that I walked only 2 miles yesterday but I hadn't done it yet. Well after I finished with the computer I went ahead and did my exercise before John got home. I started the 3 mile tape. So I've walked 6 miles today and yesterday. My body is feeling it. I am sore. But it's a good sore because I know I'm building up muscles now. I am not weighing myself until Saturday because I want to be surprised. Hopefully I will lose more this week. Back to last night. My mom and I went to play bingo. My husband watched the kids for me so that I could go out and have fun. I won some homemade candles that my friends mother makes. I also won a big candle that is shaped like a bowl and has floating candles to fit inside. It's really pretty, but I gave it to my mom because she had won it in the begining. She won me the homemade candles and lost them, so when I got those back and the big candle I told her that it was for her. We had a good time. It was good to get out of the house a while. I got another member to the Blinkie Lover Zone Club today. I would have had two but one of the ladies didn't read the terms all the way and didn't fill out the form right. Hopefully she will and rejoin. I would love to have more members. I am going to make some more blinkies tonight because I have some really cute sayings that would make great blinkies. Remember you have to join in order to see the new blinkies. I need to go make those now in fact because my husband is at his Darts League game and he wants me to tape wrestling for him. One of his favorite wrestlers is coming back tonight. Okay I'm off to make more blinkies.
Posted by
at 8:27 pm
March 2, 2003: I am making an early entry in case I don't get to tonight. My husband just left for work and he will be home early tonight. He is going to watch the kids so I can go to bingo with my mom. I added 5 new blinkies this morning. I am going to make some more this week and maybe some new racks. The only way you can see them now is if you join the club. I am going to go clean house after I'm done here. That is basically going to be my day. I will let you know if I win anything tonight. Lillian is trying to say "daddy" right now. She almost has it. It sounds like she is going to have a really cute voice. Okay well I better be getting my housework done. I'll post more later if I get a chance.
Posted by
at 10:19 am
March 1, 2003: Can you believe it's March already? I can't. It still seems like yesterday that we brought Lillian home from the hospital in June. Spring is almost here! Only a couple of more weeks. I love Spring, it is my favorite season. I love it when you can see fresh new flowers grow, the grass and trees are green again. I love it! Okay enough of that. On to business. I have been communicating with the blinkie stealer. It seems that she can copy my images anyway. So I am going to find another code to put on the pages so that this can't happen again. I don't know where I can find it but I will. Needless to say, she won't be joining the group anytime soon unless she can prove to me that she gives credit by credited all of the blinkies she has. Not just mine but everyone elses. Speaking of the club, so far we have 3 members including myself. I hope I get more people to join because I know a lot of people like my blinkies. I hated to put up the password gate, but I worked hard on those and I just don't want anybody taking them without me knowing about it. I made a member plaque that is numbered and is personalized. I would love to have lots and lots of members, that would give me that incentive to make more and more great blinkies for the members to love. If you're interested in becoming a member just visit The Blinkie Lover Zone and fill out the form. It's that simple. When you are accepted I will send your personalized plaque and the password. On to my day. I fixed a couple of things on the computer this morning after John went up to my parents for the weekend. I was only on the computer for about 10-15 minutes before Lillian started chattering and I didn't want her to wake up my husband yet because he had to close tonight. The restaurant is open until 11 pm so he won't get home until midnight. He also has to open tomorrow. I get to go to Dirty Bingo with my mom tomorrow night. We always have the first Sunday of every month. After my husband left for work I did my 2 mile walk. For this week I've walked 14 miles. Unfortunetly I didn't lose any pounds, I didn't gain any either so I guess that's still a good thing. Lillian and I took a nap this afternoon. After we woke up we watched a little TV. Right now she is sleeping so I am taking advantage of that and doing some work on the computer. I am going to do some blog hopping now.
Posted by
at 9:05 pm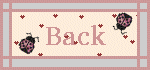 All graphics are created by me. ©Ladybug WebCreations 2002