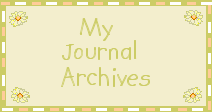 February 28, 2003: I just finished putting a password gate on my Blinkie Lover Zone site because I found my blinkies being abused. I didn't think I would have to do that. I guess I had become too trusting in people. I commend the people that are collecting my blinkies and are giving me credit for them. I hope this isnt' inconvient for you. But if you would like to join the Club then you can by visiting the new entrance page and filling out the form. I also have a mailing list. I am just getting so frustrated with all the graphics being stolen. Unfortunetly you can't stop it, but I can prevent it from happening as often because I am adding a members page that I can visit the pages and see if they are following my rules. I should have done that before but like I said before I didn't think I would need it. Well enough of the venting, I actually think it's a good idea though. I hope you do too. My friend came over that I haven't seen in awhile. We sat and talked awhile comparing baby stories. I straightened up the house some. I am going to do more laundry tomorrow. John will be getting home from school here shortly so I better get off the computer. I just wanted everyone know my reasoning behind the password gate.
Posted by
at 3:43 pm
February 27, 2003: John is on a roll this week, they had school again today. There hasn't been any snow the past couple of days. I put my husband's work clothes in the washer before I put done on the bus. I am surprised I'm not dog tired. Lillian's other tooth came through all the way last night. She wasn't feeling good all night. She'd fall asleep then wake up every 10 minutes. I finally got her to go to sleep and stay asleep around 5:30 or so. Then she woke back up around 6:30, at least she slept for an hour that time. She is usually not this cranky but I can understand because she is teething. I did regular house cleaning when Lilly wasn't fussy and wanting held. My husband was home until 3:30 then he had to go to work. He was just pulling out as John came home from school. John played outside for only a few minutes because he said it was cold. So I made us some dinner and we watched cartoons until we went upstairs so he could get his bath. I made him a snack after his bath. Right now he is watching a movie in his room. Lillian wanted a bottle so she is drinking that now. I think she is falling asleep. I hope we have a better night and she sleeps good. I have been busy with my duties in Friends For All Seasons. It's fun and it gives me something to do. I love doing the work. I have a couple of assignments I need to work on this week. As you may have seen, I changed the graphics on the front page. They are my Primative Angel Blue Set, which you can get here. Well, my husband wants me to tape wrestling for him tonight. It starts in a few minutes.
Posted by
at 7:56 pm
February 26, 2003: After John went to school. My husband, Lillian and I went to town to pay his truck insurance. Then we went to Denny's and ate lunch. I tried the new Philly Mushroom Melt. It was pretty good. Then we went to the store where I had three prescriptions filled. Actually only two got filled because the third was too early yet. I am on birth control pills right now. I am taking Ortho Tricylen. That is the one that isn't filled yet. After we did the rest of our errands, we came home. As soon as John came home he went to a friend's house to play. My husband and I just watched TV for the afternoon. My mom asked me to go to Bingo with her so she paid my way. I won $50 but split with her since she paid. It is also my older brother's birthday. I had a couple more requests for blinkies and such so I've been making those since I got home. I still need to make a couple more. I am going to make some more graphics soon. I will let you know here when I update the Adoption Shop.
Posted by
at 11:00 pm
February 25, 2003: Today was a much better day then yesterday. John finally got to go to school. Lillian wasn't being as fussy. My husband worked day shift because they needed his help unloading the truck. The maintance man came and patched up the "hole". It actually didn't take him very long to fix it. He still has to sand it down because he covered it with plaster. My mom wanted me to go to the laundry mat with her so Lillian and I rode with her. She took us out to lunch. Everyone was commenting to me all day how happy of a baby Lillian is. One man said that he can tell I'm a good mother because she is so happy. That made me feel good. When she finished drying the clothes, we went to the grocery store and I picked up a few things. I figured I'd make spaghetti for dinner because I had taken some hamburger out of the freezer before we left. I got some Ragu Super Chuncky Mushroom to put in it. They had Dannon yogurt on sale so I got some more of that. I also got some French Onion Dip, 7-Up for John, and some more baby food for Lillian. Then we stopped at Dollar General where I was going to see if they had any fans. My mom and I didn't think they would since it was Winter, by sure enough they did. So I got one like the one we had. It looks a little differnt but it's the same type. I also picked up an outfit for Lilly because I thought it was so cute, it has daisies and ladybugs on them. I got it a little big so that she will be able to wear it in the Spring. They also had Orange Clean there and my mom was telling me how well it works so I picked up a bottle. I also got some more dish soap and toliet bowl cleaner. Finally she took us home. She had bought a dozen eggs while we were at the store and she asked me if she could boil them down my house because her stove isn't working. She lives in a house that is owned by my landlady, now also her landlady. My mom's dryer stopped working a few days ago and it's connected to the same fuse box as the stove. So they have to wire the dryer to have all the power going into the bigger box. They screwed up the wiring when they "fixed" it a few years ago. Hopefully someone will fix it soon. When we got home my husband came home shortly thereafter. John got home around 3:30. We watched TV while he played outside for a bit. I fixed dinner around 4:30 then I let John watch cartoons. I gave John and Lillian a bath. Right now Lillian is sleeping and John is watching cartoons in his room, I am about to get a snack for him. After I do that I am going to take a shower and probably watch some TV with my husband.
Posted by
at 8:12 pm
February 24, 2003: I don't think today was meant to be a good day. There was no school today. I wouldn't have sent John to school anyway because when he woke up he said his tummy hurt. Well when we were on the way downstairs, he stopped and held his hand of his mouth. Then he turned around and ran back up to the bathroom. He was okay after that though. It snowed a little bit more today, like we really needed it. I don't know what we are going to do with all the snow we have. The fan in our room broke last night. When Shawn and John were horsing around Shawn put a big dent in the wall. We have to get it fixed by the mainteance man of our apartments. The landlady said it would only cost $25 which is really not that bad considering the size of the hole. It is about 3 feet tall and 1 and a half feet wide. It's a pretty big hole. Luckily there is a beam in between the wall of our living room to the kitchen so it didn't break all the way through. I guess it could be a lot worse than that. Shawn felt bad about what happened but I told him it was okay and it could happen to anyone, I also told him at least we got caught up on the rent before that happened. Our landlady was really nice about it though because there wasn't really that much damage to it. They are going to fix it tomorrow. Shawn went to his darts tournament. He is car pooling with the other team members so I don't have to worry about him driving on the roads. I don't think that roads are that bad where they have to go. Lillian's other tooth is trying to work it's way out so she has been a little cranky today. I am going to give her a warm bath her later to help soothe her. John wanted to watch Beauty and the Beast so he took the movie and went up to his room. That gave me the chance to do my 2 mile walk. Then I came upstairs. I added a few adoptables that I made last night to the Ladybug's Adoption Shop. I am taping wrestling for my husband later on. Since we got our cable back he wants to get back into watching it. That starts at 9 pm so I am going to visit some blogs and a few other things before I have to do that.
Posted by
at 7:07 pm
February 23, 2003: My husband is working a double today. I was going to go to town to get a gift for our friend's little boy but it was snowing too bad. So what I did was have John make him a card and we gave him $5. John, Lilly and I went over to the party for awhile. Lilly took a little nap while we were there. He got lots of toys which John and the other kids were playing with after he opened them. The birthday boy was tired after he ate his cake and when he was put down for his nap, Lilly woke up. So I took her home and John stayed to play for awhile longer. He came over home after a bit and got his snowsuit on to play outside for awhile. I watched and taped the movie Shallow Hal. That is a good movie. It was funny and charming. John took an early bath because when he came in from the cold he wanted to get warmed up fast so I had him take his bath. I fixed him some macaroni and cheese. We watched The Wild Thornberrys while we ate. I did my 2 mile walk before we came upstairs. I am working on some new graphics to make some more websets. I made another sig tag. This one is for St. Patrick's Day. I had a request for a Happy Birthday blinkie so I made that one and I am going to put that one up for adoption too. I am going to work on some more graphics here before my husband gets home, because he is going to want the computer.
Posted by
at 8:45 pm
February 22, 2003: My husband had a meeting this morning. After his meeting he went to cash his check then came home. He wanted me to shave his head then he took a shower. He had to go back to work and close. My mom had come and took John with her to do some laundry and the laundry mat beause her dryer isn't working right now. Lilly and I went up my parents to spend some time with them. Then me, Lilly, my mom and my younger brother's ex-girlfriend all went out to eat. We went to my husband's restaurant. He was cooking and we made sure we sat where he could see us. Seeing Lilly put a smile on his face. He said he was having a much better day then he did yesterday. Yesterday he said everything that could go wrong went wrong. I was glad to hear that today was going better. After we ate we walked around the mall a little bit. We stopped in a store called the Christmas Shoppe. They were having a really big sale because they are closing the doors for the season. I found some Raggedy Anne and Andy dolls there. I got a little Raggedy Anne doll, a set of medium size Raggedy Anne and Andy and a big Raggedy Anne doll for about $10 all together, then I got a hanging gingerbread man with a recipe on it. It is very cute. When we left there we went to Kmart where I picked up a regular scale because I was tired of the digital one reading wrong all the time. I also got a pinwheel for John and some cinnamon Ice Breakers gum for me. My mom had to get something else so Laura and I waited just outside the store for her. I walked over to Sam Goody which was right beside it and got a DVD set for Shawn. It is a set of 10 classic horror movies in one case. It was only $19.99 so I figured what the heck. It has Wolfman, Night of the Living Dead, House on Haunted Hill and a few others but they are all classic. I know he loves the classic more than he loves recent ones. When we got home I weighed myself and just as I had suspected I lost more weight. I lost 2 more pounds. I knew that digital scale was reading wrong for some reason. Now I feel better. I am only going to weight myself on Saturdays now. Well I am going to work on drawing some graphics and maybe some more blinkies.
Posted by
at 8:58 pm
February 21, 2003: My husband worked day shift so we all got up when he did, which was around 7:30 am. John wanted to go outside as soon as he woke up so I let him. Lillian fell back to sleep in her swing, so that gave me some time to do some cleaning while I had no kids needing my attention. I got the dishes done and straightened up the rest of the house. I then watched Dr. Phil because I have been hearing so much about it. That is a really good show. Today he had people on there that didn't want to change something that they have been doing for years. One woman didn't want to stop wearing make up because she said she didn't feel like herself without it. One man continuously wore a hat on his head because he was afraid of his baldness, and another man didn't shave his mustache for 20 years. Well by the end of the show all of those people had freed themselves from their fears. The woman took aff her make up, the man shaved his head and the other man shaved off his mustache. I think I'm really going to like that show. After I watched a few other shows, I went over to a friend of mine. We talked for a bit while our kids played together. Her youngest son will be a year old this coming Tuesday. She has three boys. Then we came home and we took a little nap. When we woke up John went back outside. I watched a little bit of TV. Shawn is still working, but he should be coming home any time now. I finally got one of the pages I was working on done lastnight. I submitted it but it won't be displayed yet. I had another request for a blinkie and an adoption today. I think I am going to do some blog hopping before my husband comes home because he will want the computer.
Posted by
at 8:21 pm
February 20, 2003: We got our cable back this morning. Yay. John and I watched all the cartoons and shows that he missed while we didn't have cable. Then he played outside most of the morning when he wasn't watching TV. I was doing laundry. My mom and I went to pick up a few things at the store and we took the kids to Dairy Queen. Lillian ate a little bit of my mom's chocolate ice cream. She loved that. She has been a little more cranky now that her first tooth has broken through. My husband worked day shift so he was home around 6 o'clock. I made him dinner, then I gave John a bath. School is already cancelled for tomorrow. I did my 2 mile walk today while John was outside and my husband was on the computer. He is watching wrestling now. Well I need to take care of Lilly because she is cranky. I am going to work on my assignments here after I get her calmed down.
Posted by
at 8:27 pm
February 19, 2003: We finally got to get out of the house and our parking lot. The roads are finally cleared. I asked my husband if we could go to the store just to get out of the house. We needed a few things anyway. My mom came down and watched the kids while we went into town. We were only gone about half an hour. I just picked up something for me to drink and my husband's Coke. We also got steaks for dinner. We stopped at Kentucky Fried Chicken because it was around lunch time. John had been playing out in the snow again since this morning and was still outside when we came home. We found out why Lillian has been so cranky here as of late. She got her first tooth. It must have come through last night because it wasn't there when I last checked. It is her bottom left front one. Central incisor I believe it's called. She was just smiling away when my mom told me she had it. My mom found out by Lilly biting her finger. When we got back I did the dishes and straighten up the house. I washed my husband's work clothes so he'd have them for the morning. I am going to wash the rest of them tomorrow. School is cancelled again tomorrow. They probably won't start back until next week. He hasn't been that bad so I can't complain because he's been home. We watched some movies while my husband worked on the computer for awhile. I did my 2 mile walk. Then we watched one more and John took his bath. Lillian is sleeping. She has a little bit of a fever so I am just letting her lay around in her diaper. The house is warm so I know she won't get sick. Well tomorrow morning the cable company is supposed to come out and hook our cable back up. Yay! I finally will get to watch all the shows I've been missing. It feels so good to finally have all the bills caught up again. I have a couple of assignments in the Designing Womens Committee in Friends For All Seasons that I need to start working on. I hope they turn out good because this will be the first time I am designing a webpage for someone else. I am also working on a few more of my own graphics. I will reveal those when I get them finished. Right now I am going to do a little blog hopping before my husband wants the computer back. He said I could have it when he's done around 11 or 11:30 but I think I will be asleep by then because I am tired.
Posted by
at 8:32 pm
February 18, 2003: It snowed more last night but luckily it didn't cover too much up what was shoveled yesterday. I was on the computer a little bit this morning looking to see what level we were on. We were on Level 3 but now we are down to Level 2 because it stopped snowing for awhile and they are slowing clearing the roads. My husband still didn't go to work. He called and told them that if they needed him he would go tomorrow. I rearranged Ladybug's Adoption Shop, I made a main page and just put all the adoptables in groups on their own pages. That's about all I did because Lillian was being pretty fussy and John wanted to go outside to play. My husband watched movies while I cleaned house. Then he went outside to shovel the little bit of snow that accumulated last night. The cable guy couldn't come today because of the roads but so far they said they could come on Thursday. Hopefully the weather will get better. Now we have to worry about flooding after the snow melts because there is so much of it. We don't have any bodies of water around here to worry about but it will get pretty muddy around here. Like I said before I cleaned house today and while the kids were taking a nap I did my 2 mile walk. School is already cancelled for tomorrow. My mom said the her and dad had drove over past the school and they were still plowing snow out of the parking lot so that is probably why they cancelled. She said the roads were still covered and not too many people out, but it does look like it's getting better. Lillian was just fussy and then all was quite. I just looked over at her and she fell asleep. John is watching a movie and my husband sounds like his playing his football video game. I have been busy and haven't gotten around to visit my blog friends so that is what I'm going to do now before I go take a shower.
Posted by
at 6:41 pm
February 17, 2003: What a day this has been. My husband spent most of the morning shoveling snow out around his truck and helping our neighbors dig out theirs. He didn't have work today either. The mall was closed this time. You are not going to believe this but there is probably 3 or 4 feet of snow outside. Maybe more than that. It seems like we are in the New England states. I know they have Winters like this. We haven't had snow this bad sine 1993. I can't believe it. It's still snowing outside too. The weather service here is calling for 6 more inches. Like we need more. John finally got to come home because my husband went up to get him. He walked up to get him and the trudged through all the heaps of snow on the way home. I wish I had a digital camera so I could take pictures, but we don't yet. When he got home we let him play in the snow for a bit while my husband was still shoveling. John came in around 11:30 and wanted to take a nap. He went back out for awhile this afternoon. I didn't walk any yesterday so I made up for it today. I walked 4 miles. My husband was able to go with our neighbor to get a few things that we needed. There were stores open in case people needed anything, which was nice of them. We are still on a Level 3 Emergency though. School has already been cancelled for tomorrow and I bet my husband won't be working either. He actually has a scheduled day off tomorrow. If his restaurant is open he said he would like to see if they'll let him go in. His darts tournament was cancelled for tonight. Which I'm glad about that because if he would have went out he probably would have gotten stranded where he was. I'd rather all of us be stranded here together. I hope this snow stops soon. It's already covering up the work that everybody did this morning and afternoon. I kinda hope it goes back down to Level 2 so that the cable guy can hooked our cable back up again tomorrow. I guess we'll see about that.
Posted by
at 6:32 pm
February 16, 2003: I am posting this Monday morning because I could get into my account last night. All of the Eastern counties in Ohio are on a Level 3 Emergency, which means only emergency vehicles are allowed on the roads, if anyone is caught driving they could be arrested. It has been snowing since Friday night and it's STILL snowing. We have about 2-3 feet of snow outside. We are going anywhere for awhile. My son is still up my parents. Hopefully we can get him home today. They don't live very far. The maintenence man is outside now plowing all the snow out of the driveway. I guess he's getting a headstart for when it finally stops. My husband was supposed to work yesterday and today but he won't be going in. He actually wanted to go in yesterday but we found out later that the mall where his restaurant is closed down, so if he went he would have come right back home. I will post about Monday later, I just wanted to let everyone know that we are okay. We are staying safe and warm.
Posted by
at 8:40 am
February 15, 2003: Lillian and I went to the mall with my parents and John. My husband has to close tonight, so he won't be home til late. We walked around in the mall for about 3 hours. I think I did my 2 miles there...lol. I got Shawn some Jelly Beans because he liked mine, also because I didn't have anything for him for yesterday. I also got him a cute card. I also had a picture drawn of me and the kids to give to him. We then walked down to Kmart where I got some new tennis shoes to use for walking. Funny thing happened while we were shopping at Kmart. There is a mini Little Ceasar's Pizza shop in Kmart so we stopped there are got a large pizza and some bread sticks, also Lillian was hungry. I had already gotten a pair of shoes for $14.99 and had them in the cart ready to be paid for, well when we were done we headed up to the cash register so I could pay. Well on the way up I noticed that there was a clearance rack that a woman had put out with shoes on them. They had a few pair that I was looking at that cost $16.99, then they marked them down to $3.00! I put those other shoes back and got me 2 pairs of those shoes. I had just been looking at them but I didn't want to spend that much money just for walking shoes. Was that luck or what! I also got Lilly some socks because she is getting longer feet and her socks keep coming off when she kicks. We headed back home when we got shopping done. I stopped at home to give Shawn his presents and to drop off the stuff I got. I gave him a kiss grabbed some tapes and went up my mom's for a bit. We transferred some funny moments on to a tape that we are sending to America's Funnist Home Videos. I think we got some winners on there. There is one part when John was around the same age as Lilly is now, he is sitting up in his crib, we are talking to him and suddenly he sneezes and flips a toy over his face. Then there is a part from John's 1st birthday party where he runs over himself in his car. He had been pushing it backwards and ended up slipping down. We also added a couple of things that Lilly did that I caught on tape. There is a part when Lilly was trying to put her binkie in her mouth, it took her about 10 minutes to do then finally she got it in but it was sideways. It was funny. I also added the part where she fell asleep in her Johnny Jump-Up. I think those moments are a lot funnier then what they have on there. It would be so nice to win some money for the kids education. After doing that I just stayed up there for a little bit longer. My dad, who was afraid to hold Lilly for the longest time, finally held her today. She fell asleep on his chest it was so cute. He is just afraid to hold babies but he finally held her today. We came home around 7:30. John is staying with them again. I walked at the mall today which was about 2 miles because the mall is 1 mile back and forth. We walked it twice. I added some more adopted blinkies and I am going to make some more of my own soon. I need to call a friend of mine then I am going to do some blog hopping.
Posted by
at 9:45 pm
February 14, 2003: HAPPY VALENTINE'S DAY EVERYONE! Well John actually had a full school day. We filled out his Valentines before he left. My husband had to work day. I just cleaned house and played with Lillian. I only did 1 mile because I wasn't feeling very good for some reason. I might do 3 miles tomorrow to even things up for the week. I started dinner around 4 o'clock because I thought my husband would be home around 5 or 5:30 but he didn't get home til around 6:30. He told me that they got really busy just before he was about to leave so he said some extra time to help. I guess all the guys are taking their wives or girlfriends to my husbands restaurant. Before he came home I went ahead and gave John his plate because he was pretty hungry. While he was eating my mom came down and wanted to know if John could go up her house. Usually he goes up on Saturday but since he didn't get to go up for 2 weeks they wanted him to spend a couple of nights there. I think my dad is the one that misses him the most when he doesn't get to stay up there. Well I told her that he could if it wasn't going to spoil their Valentine plans but she said that he and she already had their candle light dinner and exchanged gifts. We still have Lillian because my mom has to work in the morning. When my husband came home he surprised me with a dozen roses, a box of Jelly Belly jelly beans and a very sweet card. I was so surprised I really didn't expect anything since he had to work. I had put our dinner in the oven to keep it warm until he got home. He went upstairs to chain then I made him a plate. We sat and ate dinner together in the living room. Then we snuggled on the couch and watched movies all night. We were tasting all the different flavors of the jelly beans. He told me that he knew I was on a diet so he didn't want to give me chocolate so he got me those jelly beans instead. Men can be so caring without even knowing it sometimes. We watched movies all night and just sat in eachothers arms. That was the best Valentine gift I could ever get, just spending time with him.
Posted by
at 11:30 pm
February 13, 2003: I am making an early entry today. School was on a two hour delay again today. My husband is working day so he will be home early tonight. I am making Chili for dinner tonight. I have it in the slow cooker now. It smells really good. I walked my two miles this morning. The scale I got is really weird. It says one minute that I lost weight then the next it says I gained it back. I don't know what is wrong with it. I seriously doubt I gain weight that fast just during the day. I am going to stick to weighing in 2-3 times a week. That way I don't get frustrated about how it's changing. This morning I weighed myself and it said 267. But when I weighed myself yesterday I weighed 265 so according to that I lost 2 more pounds. I don't know why it's doing that, for one thing it's a digital scale. I may have to just get a regular one. I gave up regular Pepsi and regular Mountain Dew a couple of weeks ago, when I started my diet. Right now I am drinking Caffine Free Pepsi, I already bought Caffine Free Diet Pepsi which I will start on next. Pretty soon I am just going to give up pop all together. I feel confident that I am going to lose the weight, I have the will power to do my walking exercises. Before I didn't think I could do any type of exercise, but with these tapes I know I can. I also have the support of my friends at Weight Loss Blogging Buddies. I just saw the cutest thing. Lillian is in her Johnny Jump Up, she fell asleep. She is just sitting there. I am going to take her out of there and I will probably take a little nap with her before my husband and John get home. I didn't have much cleaning to do because I did it all yesterday. That's a first. Well I might fill you in on my day later on.
Posted by
at 1:09 pm
February 12, 2003: School was on a two hour delay again this morning, but at least he gets to go. It wasn't snowing as bad as it was yesterday. I checked my email this morning when I got back from putting John on the bus. Then my husband and I watched some TV together before he had to go to work. I didn't sit down the entire time. I mostly was cleaning. He told me to take a break and watch a movie with him. So I finished doing the dishes and sat down with him. We played "where's the baby" with Lillian. We both started laughing when she'd laugh. It was so cute. When he left for work it was around 3 o'clock. I did my 2 mile walk before John got home. In fact I had just finished stretching after the walk when he walked in the door. We went over his homework but he wasn't interested in that so I am going over it again before he goes to bed. I am going to read him the book that he got from the library at school because he has to take that back tomorrow. Right now he is coloring and watching The Rescuers. Lillian fell asleep in her playpen. I am just messing around on the computer for a little bit. I added another welcome gift on my Friends For All Seasons page. I also updated my My Journey To Weight Loss Journal page. This morning I added a few blinkies to The Blinkie Lover Zone. I have had a few requests for custom blinkies the past few days. I think that's about all the updates. Oh I am going to do the This-or-That Tuesday and posting that on my This or That Tuesday page. Now I think that's it. I am going to get his papers so that we can practice them, then I am putting him to bed. I will be blog hopping some too tonight.
Posted by
at 8:08 pm
February 11, 2003: School was on a two hour delay this morning but at least he got to go today. It looked like it was getting bad out there and I almost wished that he didn't go, but it stopped. Our check still wasn't there, we will probably have to wait a couple more days. Since we didn't go anywhere, I just rearranged things in the kitchen. I put away some clothes that I had sitting in a basket. Our kitchen was a little clutter so I cleaned it some. It looks a lot better. After I did that, my husband and I watched The Beyond and Susperia. Those movies aren't as bad as I thought they would be. I thought they would be scary but they actually weren't that bad. In fact they were very strange. The Beyond is a bit more gorier than Susperia. I liked them. After those were finished my husband worked on the computer. I walked my 2 miles before John came home from school. When he got home we at dinner. He went to play with a little girl that is in his class. She also lives in the same apartments as we do. I talked with her mother for a few minutes while Lillian was taking a nap. I came back home while John stayed there for a little bit. I watched Grease until he came back home, then he got his bath. Right now he is wrestling with daddy. Lillian is in her Johnny Jump-Up. She loves that thing. I video taped her a little bit. Her dad was jumping around with her, it was so cute. Well I am going to take a shower now.
Posted by
at 7:52 pm
February 10, 2003: School was cancelled again. That in a way was a good thing because then we wouldn't have had to run back and forth between the appointments today. If we did, we would have gone to the first appointment then we would have to go back to school, get John, take him to his appointment, then take him back to school. Since school was cancelled, we took Lillian up my mom's and she watched her while we went. We just took John to the first appointment then we took him to his. The places we had to go aren't more than 2 miles apart. My husband called to see if the check was there yet, unfortunetly it wasn't. Hopefully it will be there tomorrow because he has the day off again. We just went to the store so I could pick up a few things. I got some more Yogurt, milk, hard salami, sandwich spread, donuts, waffles, syrup, salsa cheese, corn chips, Pringles for my husband, Caffine Free Diet Pepsi for me, V-8 smoothies, and a couple other things. Then we stopped at Subway to get us a sandwhich and got a Burger King Big Kids Meal for John. Then we came home. We watched Killer Klowns From Outer Space and Stand By Me before my husband went to his darts tournament. I walked another 2 miles today. I weighed myself this evening and I've lost another pound. Seems like I'm losing weight quick, but all I'm doing is the extra exercise. Hopefully that's a good thing then. I am going to work on drawing some graphics tonight. I need to practice a little bit if I want to get good at it. Hopefully school won't be cancelled tomorrow because John actually gets upset when it is. I have never seen a kid who loves school like he does. I guess I did when I was his age too. Oh almost forgot. I joined Weight Loss Blogging Buddies last night.
Posted by
at 7:05 pm
February 9, 2003: I worked on some graphics this afternoon while Lillian took a nap. John was still at his friend's house. He didn't come home until about 5:30. My husband works until about 9 or 10 tonight. I made some signature tags and the rest of the month blinkies which can now be found in the Blinkie Lover Zone. And I moved the page of linkware graphics to Ladybug's WebCreations where everything is now linkware. I added My Journey To Weight Loss Journal today. I will be putting each mile that I walk and at the end of the week I will put how much weight I lost that week. There is also a total for each. It will just be numbers but it's like a journal of sorts. I will also put my accomplishments here too. I walk 2 miles this afternoon after my husband left for work. When John got home we cleaned up his room then watched Happy Valentine's Day from Barney and Rudulph the Red-Nosed Reindeer. After that he took his bath. He said he's tired so he is going to bed a little earlier than usual tonight. I will probably get him to turn off his TV and go to sleep around 8:30 unless he falls to sleep before then. Right now Lillian is being a little fussy so I better go tend to her and then do some blog hopping. She is fighting sleep because she didn't take a very long nap this afternoon. I think that's all the updates I have for now. Hopefully my husband and I can pay some bills tomorrow, if our check is there. I still have a couple of appointments to go to but I would like to get some bills paid and do a little shopping. Until tomorrow.
Posted by
at 7:25 pm
February 8, 2003: My husband called the electronic income tax return number and it said that our other check was ready. Well my mom and I were going to meet him over at a Chinese restaurant to pick up the money and have lunch with him before he had to go to work. He went on ahead to pick up his paycheck and to pick up the other check. Whe we met him at the restaurant he told me that the lady said it wasn't there yet that it would probably be there later in the day. He still had to work so we agreed that we would just pick it up on Monday while we were out. I have an appointment Monday and if John goes to school we have to pick him up right after he has lunch then take him back. So we are going to do that Monday. He still got his paycheck and since I am going to use our return to pay bills he went ahead and let me get a few things that I wanted. We ate with him, then he met us over at Circuit City because he still had a little bit of time before he had to go to work. Him and I went in while my mom stayed out in the car with Lillian. I went ahead and got the drawing pad I wanted. It's called a Wacom Graphire2. It is pretty nice. It comes with a cordless mouse, drawing pad and pen, and comes with 2 CDs. Shawn went ahead and picked up a couple of DVDs, he got Stand By Me and Killer Clowns From Outer Space. He gave me a kiss and left to go to work. I paid for the things. Then mom and I went to WalMart. I got an electronic scale, some stove burner covers with Lighthouses on them, baby wipes, diapers, and some outfits for Lillian. While we were there they had a special on clearance items, at first the clothes we got here were $5 at piece then they marked them down to $3 right after we got them. I was going to get some new tennis shoes but I'll wait until Monday for that. Then finally we came home. John is still staying at his friends house, he will probably spend the night there again. When we got home, I went ahead and weighed myself. I have lost 3 lbs already just in a week, I can't believe it. The best thing is I haven't really changed any of my eating habits. I was already eating healthy but I just couldn't seem to loose the weight. This makes me want to walk more and more. I love it. I walked just 1 mile today because I'm starting to feel it in my muscle. I need to slow down a bit. I also messed around with the drawing pad. I think it's going to take some practice before I can really draw good with it. Before closing I would like to thank all the warm welcomes from my new friends at Friends For All Seasons. I added a page to put all of my gifts on from them. Thanks so much for the warm welcomes, you have really made me feel apart of something.
Posted by
at 4:28 pm
February 7, 2003: John's school got cancelled again today. I don't even know why, it wasn't really that bad of a snow that we got last night. Maybe it was because it was icy. I'm not sure because I didn't go anywhere today. John, Lilly and I walked down to my friends for awhile. We talked for a bit. I told her about my excercise tapes and she sounded interested too. When we got home my husband had just pulled in. He brought me home some Quesadilla from where he works. He knows how much I love them. They are excellent. I did my 2 mile walk. I fixed John something to eat, and I heated up my food. We watched Ice Age once again, then The Spirit of Mickey. My younger brother came and got John. He took him to a monster truck pull, then my older brother took him over to stay with one of his friends for the night. I am really starting to feel my muscles tighting in my calves, butt and thighs. The walking is great. I didn't think I had the willpower to continue doing this because I could never do any diet and stick with it. But these tapes are really fun and you don't even realize they are excercise. That's what's makes them so fun. And they really work. I recommend this to any mother or father that spends most of their time at home, because you can do these any time of day and you can set your own pace. Definetly worth the money. I would also like to thank the Friends For All Seasons for letting me join. Well I am going to go watch a movie with my husband now.
Posted by
at 9:46 pm
February 6, 2003: Well I did something great today. Made me feel wonderful. I walked 4 miles today. I was just going to do the 1 mile walk, then I decided to have a look at the 3 mile tape. Well instead of just sitting there watching it, I went ahead and did it. It was a heck of a workout but I did it. That makes 4 miles today. Whew! I started feeling it too. My legs are starting to tighten up already. These tapes are amazing. I don't know if I'm going to do that again, but now I know I can do. I am still going to pace myself. Before I did that I added my poems to my blog. It was a different site before but I wanted to share my poetry with my friends, so it's added into the blog site. I got a call from the school nurse this morning. It seems that John and another child were playing at recess, they had an indoor recess since it's so cold, and the other child scratched him in the face and neck. He went to the nurses office and she said the girl broke the skin but he is alright. The little girl had to stand in the corner, I guess John didn't do anything so he didn't get punished. When he got home, I seen that it was just a little scratch below the eye and one on his neck. I asked him what happened and he said that they were just playing, she took toys off of him, so he tried to get them back and she wouldn't give them back. When he tried again she just scratched him. My husband worked day and he came home before John did. My son's caseworker came today too. She comes and works with him on things he's doing in school and checks up to see how is medicine is working for him. Well before she left she gave me the nicest comment I have ever been given. She told me that he wouldn't be doing this well in school if it hadn't been for me willing to help him along the way. She said she wishes all the other parents were the same way. Actually the therapist he was seeing a few months ago said the same thing to me. He told me that I was one of the best parents he's seen in a long time. Because I am willing to help my child and I am willing to do anything to help him succeed. I feel great knowing that I am appreciated for just being a mother. I made Spaghetti for dinner. John and I watched the rest of Dinotopia and Ice Age again. My husband is downstairs watching "The Beyond". I'm not sure if I want to see that one or not. I am going to do some blog hopping, then I'm heading to bed.
Posted by
at 8:17 pm
February 5, 2003: After I put John on the bus, I started doing the laundry. While the first load was in the washer I went ahead and did my 1 mile walk. Then after I got my energy level up I did the dishes and vaccumed while Lilly and Shawn were still sleeping. When they got up, Shawn and I watched Dagon. It's a movie based on the novel by H.P. Lovecraft. He has a very strange writing style. He is also the writer of Re-Animator which is also a movie. My husband was a big fan of him when we met, so he got me hooked. Want to check out his stuff look the H.P. Lovecraft Library. Warning, his writing may not be appropriate for young people. He writes horror related stories. Dagon is pretty good. Again I thought it would be scary but it wasn't too bad. We also watched Hellraiser II: HellBound. That turned out to be not so bad either. While we were watching those movies I was still doing laundry. I washed 5 loads. One of the loads was sheets and towels. My husband left for work around 3 o'clock. John came home around 3:30. The kids and I went to the store. There was a lot of good sales going on. I picked up some Chef Boyardee Raviolis, Pringles, Betty Crocker Brownie Mixes, Frosting, cheese, milk, frozen dinners, Pizza Bagel Bites, French bread pizza, grapes, carrots, sour cream, Caffine Free Pepsi, Kool-Aid drinks for John, Chex party mix, cookies, soup mixes, tissues, medicine for Lilly, and a cheese slicer. Most everything I got was on sale. I was happy about that. When we got home John went outside for about a half an hour because it was getting cold. I let him take a bath with Lillian. I put her in the seat I got her the other day. She sits up pretty good in it. She was enjoying herself by kicking up water, John would say "hey stop doing that." and Lilly would just laugh and giggle. Right now she is sleeping. John is in his room watching the Dark Crystal. I just made some blinkies for some requests that I got. I have some ideas for blinkies, but it will take me a little while to make them because I am making some for each month. So far I just have February and March made, I have to come up with ideas to put with the other months. I'll have those done and up as soon as I can. I am looking around at websites and doing a little blog hopping.
Posted by
at 8:40 pm
February 4, 2003: I did my walking video before I started housework this morning. It really gets my energy up. I love these videos they are so easy to do and you can feel it working. My muscles are starting to ache a little but it feels good to know it's working. I am going to stick with the 1 mile tape for two weeks then I'm going to do the 2 mile. So far I've walked 2 miles. When my husband got up we watched on of his videos. He wanted me to watch Evil Dead 2 with him. That movie isnt' as scary as I thought it would be. It more sick humor than anything. He also wanted me to watch Hellraiser with him too. That also wasn't as scary as I thought. It might have been that we watched them during the day and we were together. I know I wouldn't watch them by myself. After my husband left I finished cleaning before John got home. When he got home we watched Ice Age. Right now he is in his room watching Zeus and Roxanne, which is about a dog and a dolphin who become friends. Lillian is taking a nap. I just made some dolls for adoptables. I think they are cute. I made groups of them with different color dresses and hair. If you would like one, you can request it by telling me which color hair and dress you want. They are on my Ladybug's Adoption Center page. I also made a couple of new blinkies last night before I went to bed. One of them is the "I'm walking away the pounds" blinkie that I have on my main page. I am going to take a shower before I do anymore work on graphics and go blog hopping.
Posted by
at 7:31 pm
February 3, 2003: After I put John on the bus, my husband and I went shopping. We got an early start, which was about 9:30 am. First I went to go get my hair cut. I needed it. My hair grows fast and I've been keeping it short. It feels 100% better. It was actually a pretty nice day out. Right now it says it's 52°. After I got my haircut we went to Walmart where I got Lillian a bath tub seat, a pack of flannel pajamas, and a new binkie. Then we went to Circuit City where I looked at the drawing pads. They have a really nice set witht the pad, pen and mouse for $99, I am going to wait until we get the other half of our income tax to get that. We then went to where my husband works to eat lunch. He said he wanted to show off the baby. This was at the mall so that's where we did the rest of our shopping. After we ate Lillian and I went to Bath & Body Works, while my husband went to SunCoast to look at the DVDs. At Bath & Body Works there was a sale where you get 6 for $36. So I got a bottle of lotion, spray and body wash of Green Tea & Cucumber Essence and the same of White Ginger & Amber. Both of them spell wonderful. I always like to try new scents from there. After that Lilly and I walked down to KayBee toys where I got John some crayons and a couple of coloring books. From there we just walked across to where my husband was. He picked up some horror DVDs, which are The Beyond, Dagon, Evil Dead II, Hellraiser/Hellraiser II Set and the Alien Legacy Box Set. I looked around while he went on ahead and went to Sam Goody. While I look around Sun Coast, I found the Walk Away the Pounds set of 3 tapes for just $29.95 so I picked it up. I also got Scary Movie, Ice Age and Dinotopia. After I paid for them we walked down to meet my husband. We didn't get any movies there so we went ahead and started for home. At that time it was around 2 o'clock by the time we got to the car. My husband checked out a couple of his DVDs before he went to his darts tournament game. John and I watched Dinotopia. We actually only watched the first DVD because by then it was time to get his bath and go to bed. I played the first tape of the Walk Away the Pounds tapes. The lady in the videos is so pleasant and she makes you feel good about yourself as you are doing the exercise. So far I walked 1 mile with her. I will definetly like doing this. I think I'll stick with the 1 mile tape for a week then work my way up to the 2 mile by next week. This is exciting. I changed my front page to display my Daisy Bear set, which can be purchased for just $10 here. I wanted to show what it looks like on layered backgrounds. I am going to do some blog hopping before I go to bed.
Posted by
at 8:30 pm
February 2, 2003: Happy Groundhog's Day everyone! I don't know if he seen his shawdow or not today. It still means another 6 weeks of Winter no matter what. Today my husband, Lilly and I went to the store and picked up a few things. Tomorrow we are going fun shopping. He went to see a friend of his that lives about and hour and a half away from us. I went to Dirty Bingo with my mom. I did win a gift the first half but lost it the second half. So I ended up with nothing. We had the kids there. John was playing good and he was behaved for him. Got a little rowdy at times but good nonetheless. We are going to do the shopping while John is at school tomorrow. Right now he is taking a late bath because we got home about 1/2 hour ago. Lillian is fighting sleep, but I think she is loosing because I don't hear her right now. After John gets his bath and goes to bed I am going to take my shower and go to bed too. I am beat. Actually if I feel up to it after my shower I am going to work on a new graphics collection to add to Ladybug's WebCreations. I have a few ideas that I will be working on. Well I'm going to get John out of the tub so that he can get to bed.
Posted by
at 9:31 pm
Feburary 1, 2003: I just opened up my Ladybug's WebCreations site. I hope you like what you see. I have been work on it the last couple of days. I will be adding more in time. Right now there is a collection of flower bears. I am very proud of it. Every single item is mine which was created with just my mouse and me. Speaking of which, we didn't get to go shopping yet because by the time our checks were ready my husband had to go to work right after. So he picked them up before he went to work this evening. We decided that we will just wait until Monday to do the shopping while John is in school. I even added up all the bills that we can pay out of this, after we do that we will be doing great. We had it a little rough there a while back and I couldn't keep up with all the bills, so some of them got behind. I am using some of our return to get caught up. Then all will be well for us financially. Thank you to everyone that has visit and wished me well. I will try and do some blog hopping tonight since I haven't been able to the last couple nights. But since I got the site up I can relax a little until I come up with some ideas for new sets. So off to blog hop I go.
Posted by
at 6:01 pm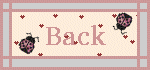 All graphics are created by me. ©Ladybug WebCreations 2002